Asian Games 2023: India's schedule and event timings for September 27
India is set to continue its quest for medals at the Asian Games 2023 in Hangzhou, China, with a packed schedule on September 27. The day will witness Indian athletes competing in a variety of sports, including tennis, boxing, Esports, and more. Here's a detailed look at India's schedule and event timings for the day, as the nation aims to add to its medal tally.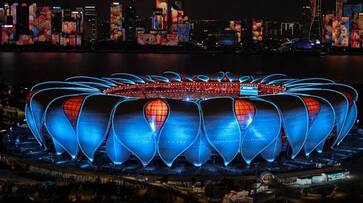 As the Asian Games continue in Hangzhou, China, India is riding high on the historic Gold win in Equestrian Team Dressage on September 26, 2023, which has bolstered the country's medal aspirations. On Wednesday, September 27, 2023, India will be in pursuit of more medals across various sporting events. In addition to their Equestrian success, India has already secured three medals in sailing.
The spotlight on September 27 will be on the shooters, with six medal events scheduled. The Indian women's hockey team is set to make its debut, facing Singapore for the first time in the tournament.
Indian tennis enthusiasts will be keenly watching Sumit Nagal, Ankita Raina, and the men's doubles pair of Ramkumar Ramanathan and Saketh Myneni as they compete in quarterfinal matches with hopes of securing medals.
The Indian Esports team will participate in the quarterfinals of the League of Legends competition, while the boxers aim to maintain their impressive performance. Squash, Bridge, Basketball, 3x3 Basketball, Cycling, Handball, Fencing, and Table Tennis are among the other sports in which India will be competing.
Also Read: Asian Games 2023: Tennis stars Ankita Raina & Yuki Bhambri crush Pakistan duo in mixed doubles opener
India is currently ranked sixth in the medals tally, with three gold medals. Here is a detailed schedule of India's participation on September 27 at the Asian Games
Asian Games: India's Schedule for September 27
3x3 Basketball: Men's - India vs Macau, China (12:10 PM IST)
3x3 Basketball: Women's - India vs China (12:10 PM IST)
Basketball: Women's Preliminary - India vs Indonesia (05:30 PM IST)
Boxing: Men's 57-63 kg and Men's 80-92 kg Round of 16 (12:15 PM IST)
Bridge: Men's, Mixed, and Women's Teams (06:30 AM IST)
Cycling: Men's Sprint Qualifying - Elkatohchoongo David Beckham (07:30 AM IST)
Cycling: Women's Kerin - Agashe Shushikala (07:30 AM IST)
Equestrian: Intermediate Dressage Individual (05:30 AM IST)
Esports: League of Legends quarterfinal - India vs Vietnam (11:30 AM IST)
Fencing: Men's Foil Team - India vs Singapore (Round of 16) (06:30 AM IST)
Fencing: Men's Epee Team - India vs Jordan Jordan (Round of 16) (06:30 AM IST)
Handball: Women's Preliminary - India vs Hong Kong, China (05:30 PM IST)
Hockey: Women's Preliminary - India vs Singapore (10:15 AM IST)
Shooting: Skeet Men's Team qualification and final (06:30 AM IST)
Shooting: 50m Rifle 3 Positions Women's Qualification and final (06:30 AM IST)
Shooting: 25m Pistol Women's Final (06:30 AM IST)
Shooting: Skeet Men's Final (06:30 AM IST)
Shooting: Skeet Women's Final (06:30 AM IST)
Shooting: 25m Pistol Women's Team Final (06:30 AM IST)
Squash: Men's Team Pool A - India vs Kuwait (07:30 AM IST)
Squash: Women's Team Pool B - India vs Nepal (07:30 AM IST)
Squash: Women's Team Pool B - India vs Macau, China (05:30 PM IST)
Squash: Men's Team Pool A - India vs Pakistan (05:30 PM IST)
Swimming: Various events (07:30 AM IST)
Table Tennis: Men's Doubles - Manush Shah and Manav Thakkar (Round of 64) (02:30 PM IST)
Table Tennis: Mixed Doubles - Sathiyan Ganasekaran and Manika Batrta (Round of 32) (02:30 PM IST)
Table Tennis: Mixed Doubles - Sreeja Akula and Harmeet Desai (Round of 32) (02:30 PM IST)
Tennis: Men's Singles quarterfinal - Sumit Nagal vs Zhang Zhizhen (Not before 10:15 AM IST)
Tennis: Women's Singles Quarterfinal - Ankita Raina vs Kaji Haruka (Not before 10:15 AM IST)
Tennis: Men's Doubles Quarterfinal - Saketh Myneni and Ramkumar Ramanathan vs. China's Zhang Zhizhen and WU Yibing (01:00 PM IST)
Tennis: Mixed Doubles Round 3 - India's Yuki Bhambri and Ankita Raina vs Philippines' Francis Casey and Eala Alex (01:00 PM IST)
Tennis: Mixed Doubles Round 3 - India's Yuki Bhambri and Ankita Raina vs Philippines' Francis Casey and Eala Alex (01:30 PM IST)
Here is the ranking table for the Asian Games 2023
1. People's Republic of China: 53 Gold, 29 Silver, 13 Bronze, Total 95 Medals
2. Republic of Korea: 14 Gold, 16 Silver, 19 Bronze, Total 49 Medals
3. Japan: 8 Gold, 20 Silver, 19 Bronze, Total 47 Medals
4. Uzbekistan: 5 Gold, 6 Silver, 11 Bronze, Total 22 Medals
5. Hong Kong, China: 5 Gold, 4 Silver, 10 Bronze, Total 19 Medals
6. India: 3 Gold, 4 Silver, 7 Bronze, Total 14 Medals
7. Indonesia: 3 Gold, 1 Silver, 5 Bronze, Total 9 Medals
8. Chinese Taipei: 2 Gold, 3 Silver, 3 Bronze, Total 8 Medals
9. Thailand: 2 Gold, 0 Silver, 5 Bronze, Total 7 Medals
10. Islamic Republic of Iran: 1 Gold, 4 Silver, 5 Bronze, Total 10 Medals
Also Read: Asian Games 2023: Chinese cricket enthusiast travels from Beijing to Hangzhou to watch Smriti Mandhana play
Last Updated Sep 26, 2023, 9:31 PM IST