This single 'vaastu' fish costs as much a gold ring!
A Flowerhorn fish, of about 10 inches, will cost over ₹10,000
Interestingly, the maintenance of the fishes is very tough.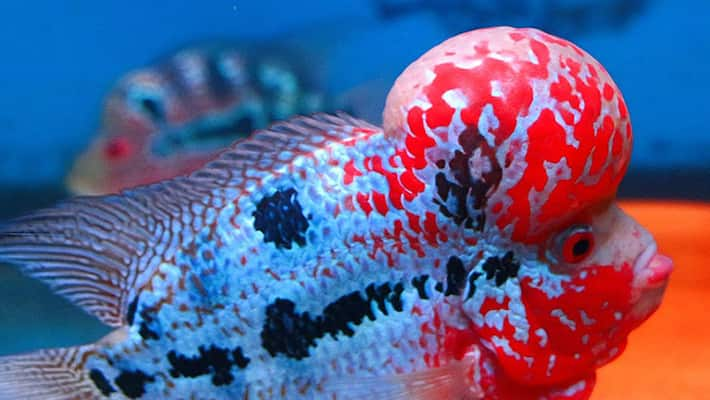 Thousands of business houses in Bengaluru believe in the 'vaastu fish', species like the Flowerhorn and Arowana. Thanks to this superstition aquarium owners are witnessing a surge in sales. A single small-sized fish of these varieties are now going for a whopping ₹10,000. 

Ahmed Saab, the owner of Marine Aquarium which deals in ornamental fishes, says that there is always a crazy demand for vaastu fish as customers believe that keeping the live fish in their offices and homes brings 'positive' changes. 

For example, Vinod Kumar, who is in the poultry business and a believer, said, "I started the business 15 years ago, and initially I was going through a rough phase for few years, I visited a client, and he suggested that I keep vaastu fish as it will bring prosperity. I kept one fish at home from last few years and my business has improved."

"A small Flowerhorn fish, about five inches in length, will cost ₹2,500 and a big fish, of about 10 inches will cost over ₹10,000," he said.

While the Flowerhorn was still available in a few shops, the other vaastu fish, Arowana, was out of stock. Ahmed said many customers prefer Arowana as it is pure white in colour. These fish will also cost over ₹10,000.

Another vendor, at Seabird Aquarium, says Arowana is supplied from Chennai and Flowerhorn is basically imported from Hong Kong. 

"After seeing videos of Flowerhorn fish from Chennai predicting the future, many customers favour Flowerhorn,"

Interestingly, the maintenance of the fishes is very tough as even a small variation in oxygen levels will result in death. It has to be kept in aquariums with little vegetation and the water needs to taken out and new water should be filled every 15 days.

"These varieties depend on small fish and worms that we feed to it once a day," said Ahmed.
Last Updated Mar 31, 2018, 6:42 PM IST