This 113-year-old Bengaluru paan shop is a must try
This 113-year-old paan shop is a must try.
The shop is located in Shivajinagar.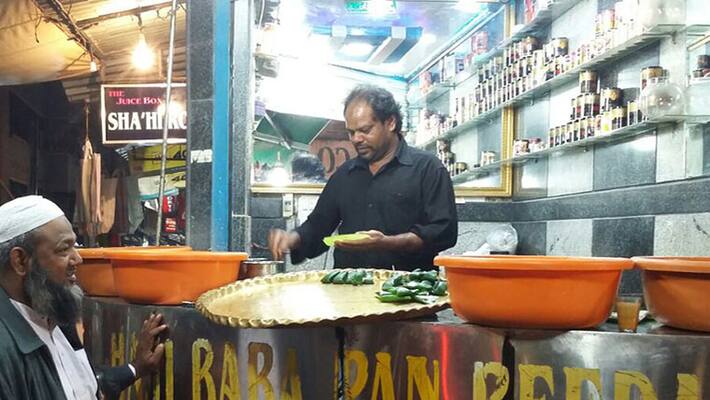 There are hundreds of paan shops in Bengaluru but none as special as the Haji Baba Paan Beeda. Setup during the British times, the shop used to serve the entire Cantonment area and was the preferred spot for the British soldiers.
The 113-year-old shop was  started by Abdul Khaliq. His grandson, Basheer who has rich clients from across Bengaluru East, gets all nostalgic while making the paan and talks of how the shop has transformed over the years.
"Haji Baba, my grandfather would prepare paan using just four ingredients that is a well-kept secret and is passed on from generation to generation. Soldiers in Infantry and cavalry were regulars at the shop," he says.
Kolkata, Maghai, Benaras and Madras paan are famous here and he also get regular order from nearby community halls during marriage and other functions.
It is said that even former Minister from Mysuru Aziz Sait use to regularly come whenever he as assembly session at Vidhana Soudha.  
"We  never compromise on quality. The betel leaves come all the way from Kolkata, West Bengal and only the fine quality are used to make paan sold to customers," Basheer said and added although the cost of ingredients has increased,  I charge only Rs  10 and I sells at about  500 to 800 paans daily.
 As the income is not great, Basheer is running this shop to keep the family tradition alive. He also has artificial jewellery business.
Last Updated Mar 31, 2022, 3:00 PM IST