Cow Bhagya? Stray cows net Bengaluru ₹1.34 lakh
A common sight in Bengaluru is herds of cattle on the roads.
The cows tend to create traffic snarls as motorists avoid them.
The BBMP has now begun to crack down on these cows, via fines.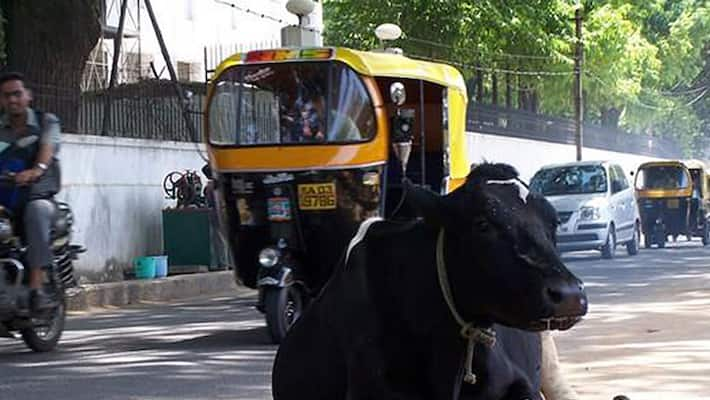 With the ever increasing numbers of cattle on Bengaluru roads at peak hours causing traffic jams, the Animal Husbandry Department wing of the BBMP has decided to crackdown on owners. 

The BBMP has announced that it will seize any such cattle and impose a fine of ₹600 per day.

Initially, the fine amount was only ₹100 and cattle owners used to let their cows free on roads and near garbage dump yards. They used to take them back to their homes to milk them in the mornings and evenings alone. 

The fine did not deter these owners at all. 

Expectedly, these stray cattle create traffic snarls, especially in areas like Cantonment, Jakkasandra, Koramangala, Old Airport Road, Marathalli, Jayanagar, Chamrajpet and Mysuru Road.  The situation is worse during peak hours as herds of cattle tend to sit on the roads. 
"We get complaints from traffic police, and we rush our special vehicle. At a time, we can take up to four cattle. All the seized animals are housed at the Corporation shed. The owners who come to collect them are penalised and warned. From April to October, this year after the penalty was increased from Rs 100 to Rs 600, the BBMP netted Rs 1.34 lakh. About 374 cattle were seized," said an official from the BBMP animal husbandry department.
Last Updated Mar 31, 2018, 6:44 PM IST