MM Mani does it again: Outrage over Minister's insult of Munnar women's stir
They were drinking and doing all kinds of dirty things... Everything happened inside the forest nearby: MM Mani said referring to Pombilai Orumai stir.
Mani had landed in controversy by insulting IAS officers.
CPM leaders also came out against the lewd comments by the minister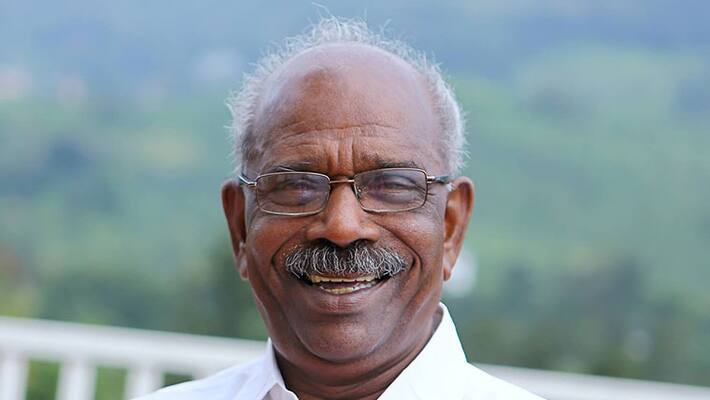 Controversial Kerala Minister MM Mani, who is notorious for his derogatory comments, has stirred the hornets' nest by showering insults on Pombilai Orumai, the women's collective that led a historic teagarden workers' stir two years back, triggering instant protests in the hill station.
 
Also read: Minister Mani's statement lands Pinarayi Vijayan govt. in soup
 
"They were drinking and doing all kinds of dirty things... Everything happened inside the forest nearby," Mani said referring to the Pombilai Orumai stir, in a derogatory tone. He also made lewd gestures. "A police DySP was also with them. We know everything about it," he added.

MM Mani's controversial speech:
Related: 'It's hooliganism in Munnar': CPM slams eviction drive in hill station
 
The minister's comments invited the wrath of women who took part in the historic Munnar struggle and they instantly took to the streets in protest in the tea garden town of Idukki. "How dare he call us prostitutes? We fought for decent wages and bonus. Chief Minister should throw him out of the cabinet," Gomathi, one of the leaders of Pombilai Orumai said. "We want Mani to come here and apologize," she added. 
Watch Pombilai Orumai's response:
Just after the Mani's speech was aired by television channels, a few workers of Pombilai Orumai came out and marched to Munnar town. "We won't move from this road until he resigns,"  Gomathi said. The police tried to remove the agitators, but failed to take them into custody as local people protested the move.
The minister's statement was widely condemned. The CPM leaders also found it difficult to justify the minister.  "His statement is not acceptable at all. I will raise the issue in the meetings," said Minister J Mercykkuttiyamma. CPM leaders PK Sreemathi MP and TN Seema also criticised Mani over his distasteful comment. 
 
Congress leaders Shanimol Usman and Lathika Subhash demanded the resignation of the power minister. "It is highly objectionable statement. This is not the first such comment from Mani. It is high time that Chief Minister threw him out," said Shanimol.
 
The minister also spewed venom against former bureaucrat Suresh Kumar, who was one of the special officers handpicked by the then Kerala CM VS Achuthanandan to lead Munnar operation, and journalists who reported encroachments in the hill station. 
 
Mani had publicly insulted Idukki Collector and sub collector the other day.  "The Sub-collector (Sriram Venkitaraman) should be sent to Oolampara (a mental hospital in Thiruvananthapuram)," MM Mani said at a public function in Idukki on Saturday. The minister also compared the removal of cross from the land encroached by a prayer group at Pappathichola in Idukki to the demolition of Babri Masjid. "RSS is behind the sub collector," he said. 
Last Updated Mar 31, 2018, 6:32 PM IST