Economist Gita Gopinath meets CM, finance minister, top bureaucrats
Harvard economist Gita Gopinath was appointed financial advisor to Kerala chief minister Pinarayi Vijayan in July.
Gita's appoinment had not gone down well with top leaders in the LDF as she is a strong advocate of neo-liberal economics.
However, Chief Minister Pinarayi Vijayan refused to revoke the appointment and maintained that the knowledge and experience of the leading economist who has her roots in Kerala would be useful for the state.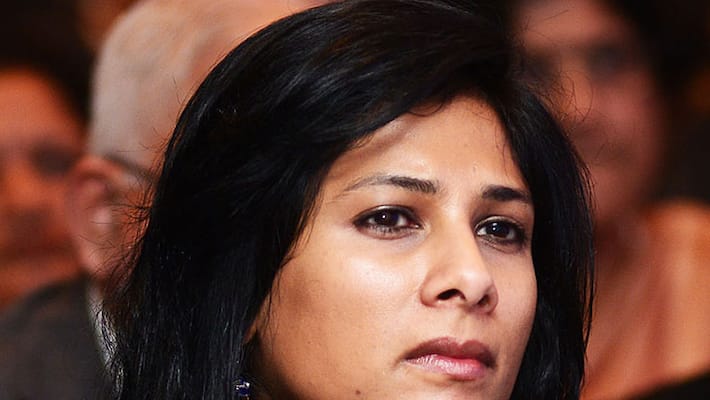 In her first visit to the state after being appointed as chief financial advisor, Harvard Professor and eminent economist Gita Gopinath met Chief Minister Pinarayi Vijayan,  finance minister Thomas Issac and other senior officials on Monday. 

Gopinath's appointment had raised many eyebrows as the lady is thought to be a strong champion of  neo-liberal economics while the Communist Party of India (Marxist) CPI (M) that leads the Left Democratic Front (LDF)  government opposes such policies.

During her meeting with Chief Minister, finance minister, chief secretary SM Vijayanand, additional chief secretaries Gopinath inquired in detail about Kerala's economic crisis and projects proposed in the budget. 

Gopinath was also briefed on major financial sources like Kerala Infrastructure Investment Fund Board (KIFBI).
On Tuesday, Gopinath will meet various department heads. 
While speaking to media on Monday Gopinath had refused to specify what topics would be discussed. 

"I don't wish to specifically say what we'll discuss; the government will announce whatever they wish to. But we are all working on the main issues on Kerala and hopefully there will be some good solutions," Gita told reporters in Thiruvananthapuram.
Last Updated Mar 31, 2018, 6:51 PM IST