Battered by currency ban? This Kerala village offers sackful of veggies for ₹100
A crate containing 14 kilos is auctioned at a maximum price of ₹60
Retail vendors have fallen in debt with no demand in market
Vegetable traders in a market in Malappuram are selling sack full of veggies for just ₹100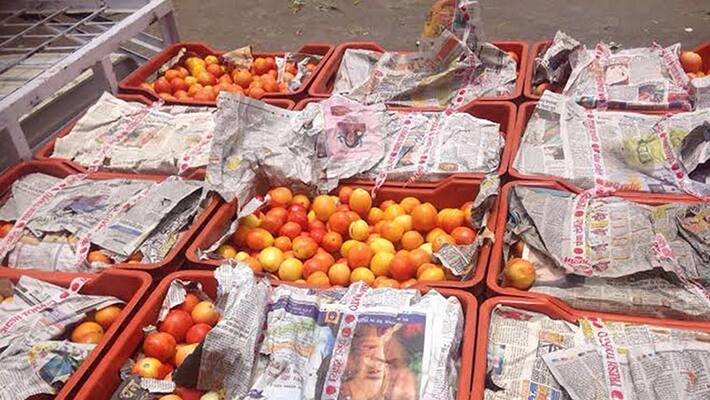 It's a market that at the best of its days saw a flurry of business with no time for even a small talk to each other.  Now, the rush has slowed down considerably. Veggies are mounting in Velanthavalam market, which was once Kerala's largest tomato market. 
 
The situation is no different in northern districts. Retail vendors at Vazhikadavu vegetable market in Malappuram is selling sack full of veggies for just ₹100.
 
Traders are facing losses as people are left with no smaller denomination notes to make purchases . 
 
Muthukumar, a tomato wholesaler says no one is ready to purchase the fruit even for a much lower price. A crate containing 14 kilogrammes is sold for ₹40, and still, we find it difficult to find buyers, he said. 
 
Vegetables are sold at auction, and wholesale vendors get a maximum of ₹60 per crate. Before demonetisation, they used to get ₹250 to ₹300 per box of tomato. "There is no demand, and only five to six kilogrammes are being sold daily while before demonetisation more than 25 kilos were in demand. We take vegetables in credit, and almost every trader has to pay at least ₹ 1 lakh to wholesale vendors. But with no demand we have fallen in debt," Abdu Rasaq, a retail vendor said. 
 
The situation is no different in tomato farms where farmers are destroying their produce. The farmers have to pay atleast ₹250 per person to pluck the fruit, but with no demand, traders are refusing to buy. Hence the farmers are forced to let the ripe tomatoes rot, or allow cattle feed on them. 
 
Retailers in Vazhikadavu market found a new means to beat the heat. The competition is so high that retailers are trying to get whatever price they can. Each sack will contain almost 15 kg of vegitables. However, the move has helped to increase the sale of vegetables which the vendors used to throw in garbage owing to lack of demand.    
 
Last Updated Mar 31, 2018, 6:58 PM IST