Demonetisation: Animals too feel the pinch of currency ban in Kerala
Payment for purchase of feed is released on the first of every month
The animals are likely to go hungry if the suppliers of fodder and feed refuse to accept cheque
The curb on withdrawal will also affect the salary disbursement of employees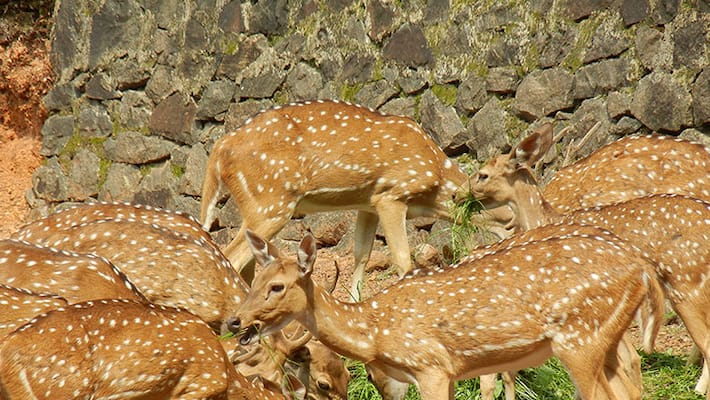 It seems demonetisation implemented by Union Government is not only affecting individuals but the captive animals as well. The weekly ceiling of ₹24, 000 on withdrawals is likely to hit the animals very dearly. 
 
The curb on withdrawal is affecting the feeding of spotted and sambar deer of the deer park on Hill Palace campus in Thripunthura. The Centre for Heritage Studies (CHA) which is managing the park is afraid that they will have to deny feed to the animals is the curb continues. The authorities pay a significant amount to purchase cattle feed and fodder for 226 spotted deer and 27 sambar deer in the one-and-a-half-acre campus. They fear that the situation will force them to stop the purchase of feed if the government does not ease the restrictions. 
 
CHA spends over ₹1.25 lakh per month to purchase the feed and fodder for these animals. The amount is advanced to concerned agencies on the first day of every month. The amount for the feed for November was already paid, and hence fodder and feed would be available for the month. "If the agency providing the feed refuse to accept cheque, owing to ceiling on withdrawal, the animals are likely to go hungry," said CHA officials. 
 
The CHA, which is already reeling under severe financial crisis has failed to disburse the salary of labourers last week. Cheque issued to a worker was returned twice owing to lack of fund in the account. The authorities are not sure to clear the payments even in the coming week. CHA need about ₹75, 000 to pay the wages to workers. They are also finding it difficult to meet other expenses with the curb on cash withdrawal prevailing, the registrar of CHA said. 
 
Salary disbursement of guest faculty, regular employees, director general and teachers, which are paid in cash, will also be affected this month. It is also not easy to credit the salary to the account of employees. For this Board of Managment will have to take a decision, the registrar said. 
Last Updated Mar 31, 2018, 6:34 PM IST