Karnataka Budget 2019: What is Kumaraswamy's calculation?
CM HD Kumaraswamy will be presenting his second budget on Friday after taking oath as the CM last year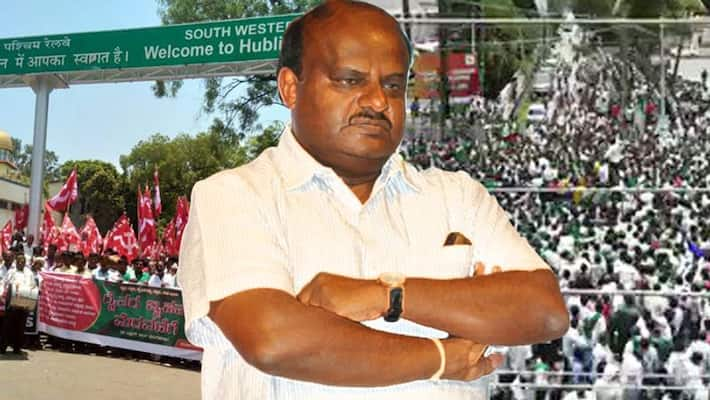 HDK will be the cynosure of all eyes as budget connoisseurs will watch him with the sharpness of a hawk
Will HDK go for a please-all budget or will be remain in the realm of pragmatism?    
When Karnataka Chief Minister HD Kumaraswamy steps into the Assembly on Friday to present the state budget, he will realise that he would be walking on thin ice. The going will certainly not be easy, given that the political imbroglio in the state is anything but over.
So, what can the citizens of the state expect?
NORTH KARNATAKA, COASTAL REGIONS BEG FOR SOME HELP!
First things first. HD Kumaraswamy has made no bones about his aversion for North Karnataka and the coastal parts of the state. Such was his animosity with North Karnataka that he had even issued sardonic statements about Koppal farmers who had sought farm loan waiver. In simple terms, it could be inferred from his statement that the chief minister wondered as to why he should help farmers from this region who had not voted for him.
Secondly, the same attitude continued with the people of coastal regions as well. It is apt to recall at this time that citizens from coastal regions ran a campaign shouting at the top of their voices that 'Kumaraswamy was not their CM' allegedly upset over the step-motherly treatment meted out to them.
Therefore, be it North Karnataka or the coastal regions, HDK has not done enough to salvage his honour. HDK has always been seen as a CM for the Mysuru region. That being the case, will HDK mollify the people from the northern and coastal sections with an unflinching focus?
NEGLECT INDUSTRIES AND FOCUS ON FARMERS?
Let's be honest. Be it HD Kumaraswamy or his father HD Deve Gowda or for that matter, HD Revanna have all been chest-beaters when it comes to the issue of farmers in the state. HDK has even shed a tear or two seeing the abominable conditions of farmers. And when was sworn in as the CM, he wasted no time in tom-tomming that he was nothing less than a deus ex machina, (machine god) for the backbone of the country. Mincing no words, he even brought out the most sought-after farm loan waiver scheme, allegedly extricating farmers from despair and distraught.
That's fine. Any mature thinker doesn't abhor anything done for the welfare of the farmers. But on the other end of the continuum, industries too play a pivotal role in ameliorating the economy of a region. So, does HDK have anything for the industries? Industrialists hope that he has some  good news for them, because if industries don't have any backing, the job sector may take a hit.
PLACATE OR VACATE?
If you remember well, Chief Minister HDK and Water resources minister DK Shivakumar raised their arms on the floor of the Karnataka Assembly last year even as BS Yeddyurappa conceded defeat. But on the diametrically opposite side, HDK has stumbled, stuttered and stammered every moment since then. Even a political novice will confess to the fact that the coalition has only been dictated by confusion and conundrum, making it obvious that none is happy. To drive home the point that the coalition is not jittery, will HDK placate the voters with a lot of sops? With an eye on elections, will HDK dole out freebies just like the farm loan waivers? If yes, where will he finance all these goodies?
CAST YOUR VOTE, NOT VOTE YOUR CASTE!
In these days of strife-torn politics, caste is the most dominant factor. HDK is a Vokkaliga and is seen as a godsend by the people of this caste. On the flip side, voters of other castes will take umbrage if nothing is done to better their conditions. It is indeed a tight-rope walk. Pampering one can vex the other and vice-versa. In such a precarious situation, HDK'S moves will certainly be scrutinized with the precision of a surgeon. Will HDK bait the caste-card or will he fearlessly and assiduously tilt the needle in favour of development not riddled in the chasms of caste?
Last week, when the interim Finance Minister Piyush Goyal presented his maiden budget, another former Finance Minister P Chidambaram famously said that budget was not 'Vote on Account but an Account for Votes'. Extending the same observation to his coalition partner down south, will HDK present a clean, pragmatic budget or will he be present a budget which will lead to a brouhaha and box him into a corner?
Chaitanyesh Rudracharya, for Newsable 
Last Updated Feb 7, 2019, 7:59 PM IST