Rains brings respite to Bengaluru, likely to continue on Sunday
After days of steadily increasing temperature over the last three days, moderate and scattered rainfall coupled with thunder brought some respite in parts of Bengaluru and its outskirts. Malur in Taluk in Kolar recorded 72 mm rainfall by Saturday evening. Weather officials say, interior parts of south Karnataka will witness rains on Sunday as well.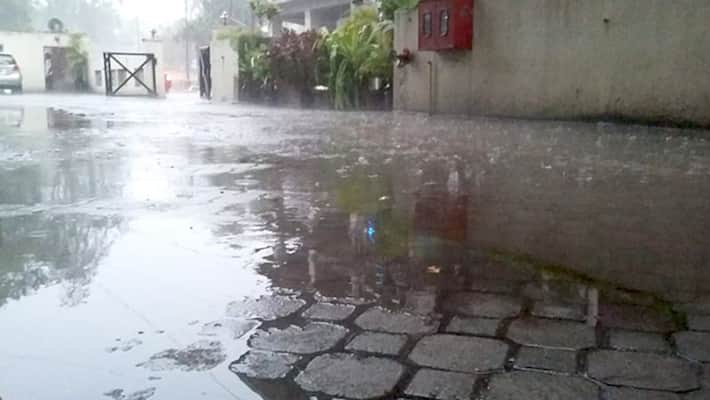 Bengaluru: Several motorists who thought that Saturday would be another day with scorching heat caught unaware as it started to pour in the evening.  As this was the second Saturday of the month it was a fortunate holiday for many government offices and firms. But those who went out for the weekend took shelter at bus stops, trees and flyovers. Those with cars were safe from the rain but not spared from traffic and water logging on streets.
Weather officials predicted rains for the next two days as there is a trough of low pressure in the Arabian Sea that is also passing through parts of Telangana. Due to this, coastal Karnataka and interior parts of south Karnataka will witness rains for next two days.
"Chamrajnagar, Ramanagar, Mysuru, Mandya, Kolar and Bengaluru have a 100% chance of rainfall. Scattered rainfall was witnessed in Bengaluru. Malur Taluk in Bengaluru outskirts has already recorded 72 mm rainfall," said Srinivas Reddy, director, Karnataka State Natural Disaster Monitoring Center.
Apart from the trough of low pressure over Arabian sea passing over Karnataka, there is the contributing factor of the increase in temperature. The maximum temperature on Friday was 32.6 degrees Celsius and the minimum was 21 degree Celsius. The weather is likely to remain the same on Saturday and Sunday.
According to officer-on-duty at Indian Meteorological Department, the rains were predicted for Saturday and Sunday.
"The city received 05 mm rainfall till 5:30 pm and another observation will be recorded in the rain gauge at 8:30 pm. The temperature for Saturday was 31.3 degrees Celsius and the minimum was 21 degrees Celsius," said an officer from IMD
Last Updated Feb 9, 2019, 6:35 PM IST