Parking at no parking zone: Motorist crashes into illegally parked auto
Rajiv from Bharathi Nagar was on his bike and took a turn from Commercial street towards Kamaraj Road and was blindsided by an auto parked in a no parking area.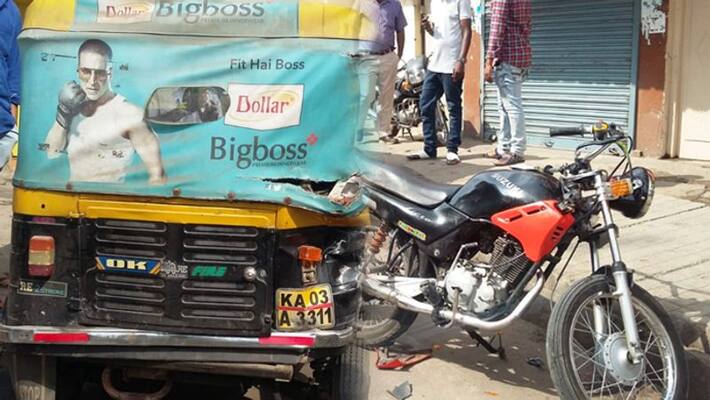 Bengaluru: The negligence of an auto driver who parked his vehicle at no parking zone, proved costly for a motorist. Rajeev, in his late twenties, was on his bike heading towards Kamaraj Road from Commercial street. No sooner did he take the turn when the illegally parked autorickshaw lay before him. Rajeev crashed into the autorickshaw and ended up fracturing his femur in the impact.
According to eyewitnesses, the biker was travelling at moderate speed and lost control as there was no time to respond and avoid the hurdle that lay ahead. The auto bearing registration number KA-O3A 3311 had been left unattended on the road for many days.
"The biker was travelling on the right (correct) side of the road and the autorickshaw was parked just ahead of the turn. He crashed right into the autorickshaw. He could not get up and was writhing in pain," said Anand a bystander.
Shivajinagar police arrived at the scene and had the victim shifted to Bowring hospital for treatment. They are on the lookout for the owner of the autorickshaw.
Doctors treating Rajeev said, that he suffered a major fracture on his left thigh and an X-ray revealed that his femur bone was broken into two pieces. 
"The family members have been informed and a detailed report will be submitted to police as it is a medico-legal case," said Khwaja Moinudeen, administrator, Bowring and Lady Curzon Hospital.
Last Updated Jan 28, 2019, 4:26 PM IST