Mosquito menace: Easily available ingredients to drive the insect from your home
These five ingredients -- garlic, lemon oil, coffee grounds, neem oil and tulsi -- can help you keep mosquitoes away from home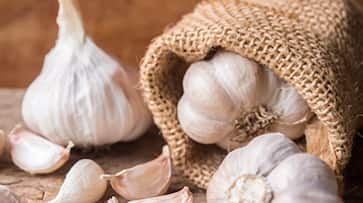 With monsoon comes mosquitoes and with mosquitoes come diseases. Here are five home remedies that will keep your home mosquito-free:

      1. Garlic                                                                                                                        
Garlic is one of the most efficient mosquito repellents, all thanks to its pungent smell. 
Simply crush a few garlic cloves and boil them in water for 5-7 minutes. Pour the boiled water into a spray bottle and spray it around the room to ward off mosquitoes.

      2. Lemon oil
The mixture of lemon oil and eucalyptus oil is effective in repelling mosquitoes naturally due to its antiseptic and insect-repellent properties. 
All you have to do is mix lemon oil and eucalyptus oil in equal proportions, add some coconut oil and use it on your skin to protect mosquitoes from biting you.

      3. Coffee grounds
Coffee grounds are one of the most simple home remedies but are very effective in getting rid of mosquitoes and other insects from your home. 
Sprinkle the coffee ground in any stagnant water in your home. The mosquito eggs that may be present in the water will come up to the water surface and eventually die due to the lack of oxygen.

       4. Neem oil
Neem oil acts as a perfect indoor mosquito repellant due to its antibacterial, antifungal antiprotozoal, antiviral properties. Just the smell of the oil is enough to keep the mosquitoes away.
Mix a few drops of neem oil with coconut oil and apply it on the exposed parts of your body. Although this can be a little time consuming, it is an effective and natural method to keep those itchy bites at bay. 

      5. Tulsi
Tulsi is effective in killing mosquito larvae, thereby help in keeping mosquitoes away. Moreover, simply planting a Tulsi shrub near your window is all you need to prevent these pesky insects from entering your home.    
Last Updated Jul 1, 2019, 5:16 PM IST