Mantri Developers leave residents, maintenance staff in despair
Residents of Mantri Espana in Bellandur have been left fuming after management's failure in order to provide maintenance. The Owners association have been running pillar to post in search of a solution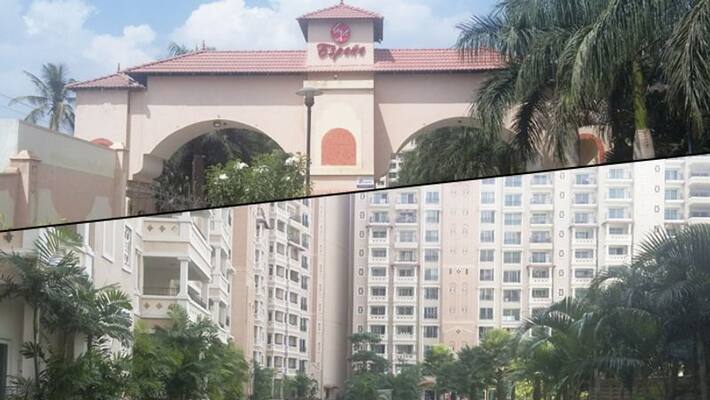 Bengaluru: Staying at a high-rise apartment may look cool, but it comes at a heavy price. For Mantri Espana residents paying the price for maintenance was not enough as they have been left without proper facilities despite transferring crores of rupees to the developer.
Lack of funds as claimed by the management of Mantri Espana has resulted in the failure of payment of salaries for staff. This alleged blatant breach of trust has left residents at a complete loss as security, housekeeping staff and other workers threaten to go on strike due to non-payment of salaries.
The Mantri Espana Residential Apartment Owners Association allege that they had paid Rs 10 lakh each as deposit for maintenance to the builder. Altogether the total sum deposited reached Rs 32 crore, an association member said.
As per conditions of the contract, the builder is supposed to transfer 12% interest of the deposit to Propcare Real Estate Management Pvt Ltd for monthly maintenance of the apartments. 
Propcare happens to be the sister concern of Mantri Developers Pvt Ltd.
"Maintenance services in Mantri Espana have been degrading for the past few months due to Propcare's inability to pay its vendors on time, leading to strikes and disconnection of utilities.  In early December 2018, Propcare's cash flow crunch took severe negative turn and they approached Mantri Residents association stating their inability to pay vendors at all.  Residents association stepped in to pay vendor payment in exchange of guarantee in terms of a post-dated cheque of Rs 45 lakhs from Propcare.  However, the post-dated cheque bounced due to insufficient funds"
Post bounced cheque, Residents association initiated legal action against Propcare to recover its money under IPC 138.  Post legal actions, Propcare returned all the money spent by the association. However, question still remains, "Will Propcare be able to provide facilities like regular water supply, electricity, security, gardening, garbage collection etc?' This will depend on Mantri Developers Private Limited who are yet to release funds for maintenance," said a resident.
The plight of staff:
A security guard, Sharma (name changed), who works in Mantri Espana claimed that he hadn't been paid for regularly for a few months. As a result, he was thrown out of his room for not paying of rent. After much pleading and borrowing, he mustered up a sum so that he was able to pay the pending rent and return, Sharma said. However, he still fears that the situation will not improve.  
"Propcare has failed in paying its vendors regularly as a result, workers are not being paid on time," said Sharma. 
The labour department steps in:
Additional Commissioner, Department of Labour Narasimha Murthy said, non-payment of workers is a major issue these days in Bengaluru. He said if workers approach their head office in Kaushalya Bhavan near Dairy Circle, they will send labour inspector to the spot and investigate further.
"Based on the statements from the complainant and owners, we will take further action. The department's objective is to help workers get their salaries on time. This rule also applies to Propcare, Mantri or any other employer," Murthy said.
Last Updated Feb 19, 2019, 4:15 PM IST