Cloud seeding in Karnataka to begin by mid-July
Preparations for cloud seeding operations are on. The company that bagged the contract is in the process of importing radar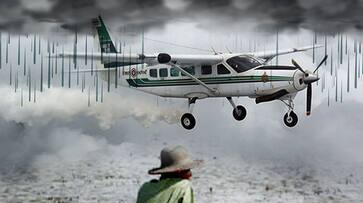 Bengaluru: The Karnataka government will launch cloud seeding operations, based out of Mysuru, in the second week of July, Krishna Byregowda, rural development and panchayat raj minister reportedly told on Friday. The plan had been approved by the Cabinet last month and had set aside Rs 91 crore for the two-year project.
According to reports, preparations for cloud seeding operations are on. The company that bagged the contract is in the process of importing radar. 
Byregowda reportedly said that they had earlier decided to make Bengaluru, the base for the cloud operation. But securing permission became an issue since there is far more air traffic in the city. Thus they shifted the operation-base to Mysuru.
Byregowda revealed that the cloud seeding operation will be based out of Mysuru and Hubbali airports.
The government has already received clearance from the directorate general of civil aviation (DGCA) to fly two aircraft that will release aerosol into the clouds to stimulate the precipitation process and form rain.
The government had ordered 300 hours of aircraft flying for 60 days, last time. This time, it has been increased to 400 hours for 90 days. 
Reports state that the cloud seeding operations started in August last year. To make the most of it, cloud seeding operations are starting a month earlier this time. 
Meteorological department had earlier stated that the reservoirs in Karnataka will go dry if the state does not receive rainfall by mid-July.
While Vayu and Fani cyclone affected the progress of south-west monsoon in the state, the monsoon that was supposed to begin early in the month of June has been delayed.
Last Updated Jul 1, 2019, 1:35 PM IST