Avoid demolitions, get these 7 documents before buying property
Bengaluru residents have faced demolitions for building on illegal plots.
These seven documents will help you avoid that fate, if you are buying land in Bengaluru.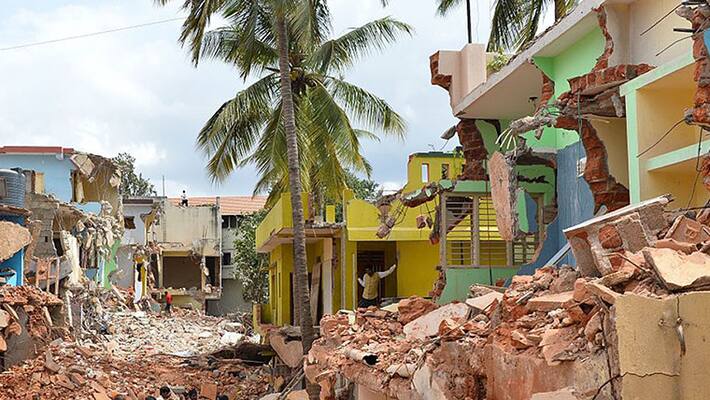 Planning on buy property in Bengaluru? Watch out. Land sharks turn illegal spaces - occupying culverts, lakes, tank bunds, forests and grasslands - into plots to sell to buyers. With the BBMP determined to demolish all 'illegal' buildings, Asianet Newsable gives you a checklist to verify before buying, so you don't end up losing your home. 
Deputy Commissioner V Shankar, who is going on full swing with the government's recovery drive, says, in many areas owners have brought land without any verification. Sellers in the real estate sector may have promised them dream homes, but these homes may have been built on government land.
"Sellers and real estate giants have converted culverts, lakes, buffer zones of lakes and forest areas. As per the high court order, these homes have been demolished after serving notices. The department also has sent notices to actor Darshan as his RR Nagar house is built on a culvert," said Shankar.
At present, the land belonging to the actor is in possession with the Revenue Department. Along with Darshan, 60 other owners from the area also have been issued notices.
One should check the following documents before striking a deal. Else, the government will go by the High Court directions and reclaim the land in contention, says Shankar.
List of documents that needs to be verified:
The buyer should ask for the 'village map' from real estate dealers and check with the concerned Taluk office about the veracity of the same. The authorities will give the details of the land, including litigation and other issues.
Get the Tippani. This document is issued by the Survey department. It mentions the sketch of the property along with the survey number. This will not have any bifurcation and discloses the exact measurement of the land.
Ask for the Atlas. This is a sketch of the property post bifurcation into plots. 
Ask for the Akarband. This is the register showing the area, classification, value and assessment of the land along with the name of the owner.
Ask for the RTC - Right to Tenancy Act. This will show who is cultivating the land.
Ask for the DC Conversion Certificate. The owner needs to obtain permission from 40 different agencies before converting agricultural land into the residential and commercial land. This certificate verifies that. 
 Patta book. This document lists the payment of land revenue and government dues.

Apart from this extensive list of documents, all buyers are advised to check with a legal expert, to make sure he or she will be free from eviction.
Last Updated Mar 31, 2018, 6:52 PM IST