Reading Between Lines: When Iran's largest warship sank in Gulf of Oman
The Gulf of Oman has also been the centre of the hostile relations between Iran and the western world.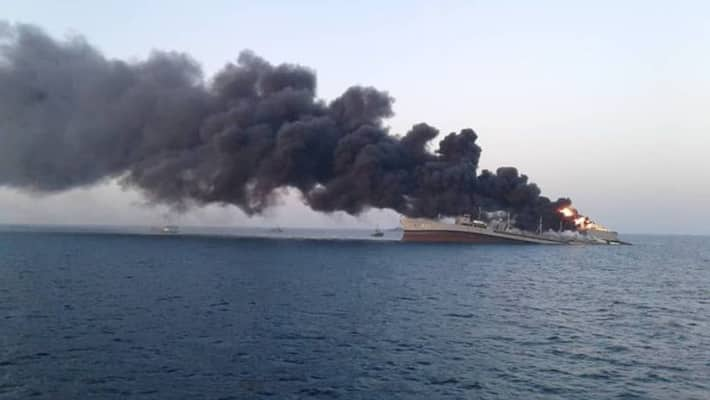 A mysterious fire at sea sank one of Iran's largest navy ships two days ago. A massive Tehran oil refinery too caught fire the very same day. Though unconnected, these fires broke out immediately after reports that Iran had made progress on a nuclear deal that was scrapped three years ago by former US President Donald Trump. 
Though Iran is trying its best to prevent any sabotage to its nuclear agreement, it has claimed an Israeli hand in the explosion that damaged its Natanz uranium enrichment complex less than two months ago.
What happened in the Gulf of Oman?
Iran's largest navy warship Kharg sank in the Gulf of Oman after the firefighters could not contain the massive fire. According to the state media, over 400 troops jumped off the vessel and 20 suffered injuries. The cause of the fire is still unclear. The firefighters fought against the fire for almost 21 hours before it sank near Jask, an Iranian port situated 790 miles southeast of Tehran. 
Kharg was a British-built ship launched in 1977. The vessel entered the Iranian navy in 1984 after extensive negotiations following the 1979 Islamic Revolution of Iran. It was one of the largest ships of Iran, which was capable of providing replenishment at sea for its other ships. Pictures circulated online showed many sailors in life jackets evacuating from the vessel.
The Strait of Hormuz, a narrow channel considered one of the world's most crucial shipping straits, is connected to the Gulf of Oman. The Gulf of Oman has also been the centre of the hostile relations between Iran and the western world. Most recently, Iran and Israel have got into a scuffle accusing each other of targeting many vessels at sea.
The Shadow War
The shadow war between Israel and Iran have been going on for years now, and it has escalated since late February. Since its 1979 Islamic revolution that toppled the America-backed Shah government, Iran has refused to acknowledge Israel. And Israel, on the other hand, considers Tehran's nuclear programs a major threat. These shipping incidents have escalated ever since Joe Biden entered the White House in January. He pledged to join the 2015 nuclear containment deal with the other world powers if Iran complies fully with the accord. This deal was scrapped by ex-president Donald Trump, which Israel heartily welcomed.
Iran has an ageing navy, and this latest disaster is a massive blow for them, considering they have been attacked fatally multiple times in recent years. In April, Iran said its freighter Saviz was hit by an "explosion" in the Red Sea. As per The New York Times, Israel did this as a 'retaliatory' attack after Iran attacked Israeli ships earlier. 
Last year, a mistakenly fired missile struck its naval vessel near Jask and Chabahar waters, killing 19 sailors and wounding 15 during a military training exercise. But here, Iranians themselves were at fault. In 2018, an Iranian navy destroyer sank in the Caspian Sea.
Implications for Iran
As per the official reports, the cause of the fire is still unclear. Kharg was a vital vessel for Iran as it was their only dedicated vessel for replenishment. Though they claim it to be a helicopter carrier, it was used for resupplying warships at sea. This was the second-largest vessel of Iran after they commissioned Makran, an oil tanker modified for use with the navy.
Iran's ISNA news agency said that Kharg left with destroyer Albroz on May 19 for a mission focusing on "training, intelligence and combat". Kharg went down near Jask, again close to the Strait of Hormuz, the strategic point of the gulf through with almost one-fifth of the total oil output of the entire globe passes. 
Now, Jask holds extreme strategic importance for Iran as the government has plans to make it their second-largest oil export terminal. A few days ago, an approximately 1000 Km pipeline was put into service from the Bushehr Province to the Gulf of Jask. This was done to provide a new bypass route for Iran to export oil to avoid the Strait of Hormuz. 
Iran has been downplaying Israel's role in the recent attacks to lower tensions and not acknowledge the success of Israel. Instead, they are blaming it on internal sabotage.  So, it will be challenging to figure out what happened to Kharg.
Last Updated Jun 4, 2021, 11:57 AM IST