We are ashamed: Muslim society apologises to health workers In Indore
"We do not have words to express our thoughts, we apologise to you. Believe us, we are ashamed for that unpleasant stone pelting incident," the members of the Muslim society apologised to the health workers in Indore.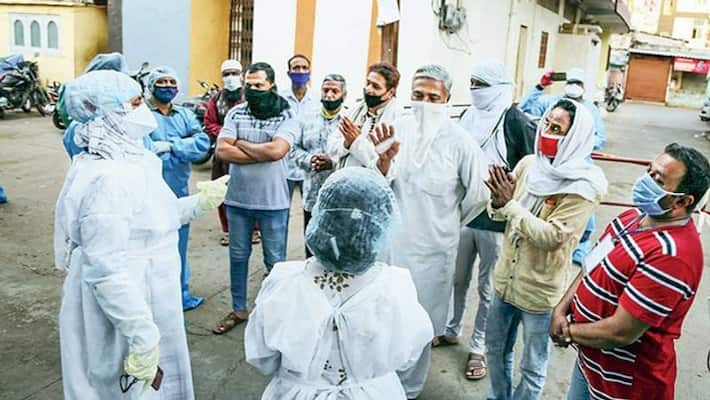 Indore: A leading Muslim organisation in Indore has publicly apologised to the health workers in Indore. They apologised for the stone pelting incident that took place against doctors and nurses on Monday.
The letter of apology, printed by a Muslim organisation, reads, "Dr Trupti Kataria, Dr Zakia Syed, all doctors, nurses, medical teams, all officers of government administration, all policemen, all Asha-Anganwadi workers, institution staff, and all people engaged in the rescue of humanity from coronavirus, we do not have words to express our regret. We apologise to you. Believe us, we are ashamed of that unpleasant incident which took place due to rumours. You are the only people who stand as a wall for us in all our illnesses and in every difficulty. That is why, today, we sincerely want to apologise to all of you, please forgive us." 
The health department team had gone to the spot on Wednesday to investigate the corona suspects. When people launched a sudden attack, the health workers ran for their lives. Police have taken action against the accused. The state government has promised to take action against the attackers. The recent attack on a team of health workers in Indore's Tatpatti Bakhal has left the city embarrassed.
According to the COVID-19 India website, there have been a total of 4554 coronavirus cases in India till 6 pm on April 6. 125 people have died, 342 people have recovered. There have been 718 cases in Maharashtra, 621 in Tamil Nadu and 523 in Delhi. These three states are the most affected by the deadly virus in India.
Last Updated Apr 7, 2020, 7:43 PM IST