World Tourism Day 2023: Exploring India's 6 wildlife sanctuaries beyond the big names
On this World Tourism Day, let's encourage travelers to venture beyond the famous names and explore India's lesser-known wildlife sanctuaries.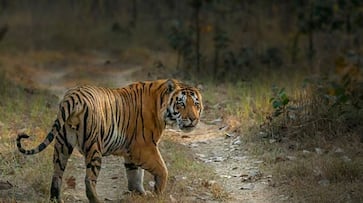 World Tourism Day is a celebration of the joy of travel and the cultural exchange that occurs when we explore new places. In India, where biodiversity thrives, World Tourism Day provides an opportunity to shift our focus from the popular tourist destinations to the lesser-known, yet equally captivating, wildlife sanctuaries. India's natural treasures extend far beyond the well-trodden paths of famous national parks, inviting travelers to venture off the beaten track and discover the hidden wildlife gems that often go unnoticed.
The Wildlife Diversity of India
India's rich natural diversity is nothing short of astounding. While renowned national parks such as Ranthambore, Jim Corbett, and Kanha are on every wildlife enthusiast's radar, there is an array of lesser-known sanctuaries that offer unique and immersive wildlife experiences. These hidden gems are teeming with diverse flora and fauna, and visiting them can be an enlightening and soul-stirring experience.
1. Satpura Tiger Reserve: The Enigmatic Haven
Tucked away in the heart of India, Madhya Pradesh's Satpura Tiger Reserve remains relatively undiscovered. The terrain is marked by rugged hills, dense forests, and meandering rivers. Here, you can embark on thrilling safaris, including boat safaris on the Denwa River, and witness the mesmerizing sights of leopards, sloth bears, and myriad bird species.
2. Bhadra Wildlife Sanctuary: Karnataka's Hidden Gem
In Karnataka, the Bhadra Wildlife Sanctuary awaits those seeking serenity and natural beauty. This sanctuary is a haven for birdwatchers, with over 250 species of birds gracing its skies. You can also spot elusive big cats like leopards and tigers while enjoying boat rides on the Bhadra River and trekking through lush green forests.
3. Kalakad Mundanthurai Tiger Reserve: Southern Serenity
Nestled in Tamil Nadu's Western Ghats, the Kalakad Mundanthurai Tiger Reserve is a biodiversity hotspot. With its pristine landscapes and dense forests, this reserve is home to a remarkable variety of wildlife, including the endangered lion-tailed macaque. Trek through the lush trails and relish the tranquility of this Southern sanctuary.
4. Dibang Wildlife Sanctuary: Northeastern Extravaganza
The northeastern state of Arunachal Pradesh holds the hidden treasure of the Dibang Wildlife Sanctuary. This remote sanctuary boasts rich biodiversity, including snow leopards, red pandas, and numerous avian species. It's an adventure seeker's paradise, offering challenging treks through pristine wilderness.
5. Kumbhalgarh Wildlife Sanctuary: Rajasthan's Wilderness
Rajasthan, renowned for its deserts and palaces, is also home to the Kumbhalgarh Wildlife Sanctuary. Nestled in the Aravalli Range, this sanctuary shelters leopards, wolves, and sloth bears. Explore the wilderness on horseback, adding a touch of Rajasthani royalty to your wildlife adventure.
Responsible Tourism
As we celebrate World Tourism Day, it's imperative to embrace responsible tourism practices. When visiting these lesser-known wildlife sanctuaries, opt for eco-friendly accommodations, adhere to the rules and regulations, and respect the delicate ecosystems. By doing so, we ensure that these hidden gems continue to thrive for generations to come.
On this World Tourism Day, let's encourage travelers to venture beyond the famous names and explore India's lesser-known wildlife sanctuaries. In doing so, not only will they discover breathtaking natural wonders, but they will also support the conservation efforts that safeguard our planet's invaluable biodiversity. Remember, every sanctuary has a story to tell, and every visit contributes to the preservation of our natural heritage. Happy World Tourism Day, and may your journeys into the wild bring you closer to nature's wonders!
Last Updated Sep 26, 2023, 8:00 AM IST