World Tourism Day 2023: 5 hidden forts and palaces of India waiting to be rediscovered
On this World Tourism Day, let's remember that India's historical and architectural heritage extends far beyond its most famous landmarks.
India, a land steeped in history and culture, boasts a treasure trove of magnificent forts and palaces that narrate tales of grandeur, valor, and architectural brilliance. While iconic structures like the Taj Mahal and Jaipur's Amber Fort continue to capture the world's imagination, there are numerous lesser-known forts and palaces that have been forgotten by tourists over time. On this World Tourism Day, let's embark on a virtual journey to explore five such hidden gems that deserve to be rediscovered and celebrated.
1. Gwalior Fort, Madhya Pradesh
Situated atop a steep sandstone hill in the city of Gwalior, the Gwalior Fort stands as a testament to the rich history of Central India. This formidable fort, often overshadowed by its more famous counterparts, is a marvel of medieval Indian architecture. Its intricate carvings, imposing gates, and the Sas Bahu temples within its precincts make it a historical wonder. The Gwalior Fort is also famous for its Tansen Music Festival, which celebrates the legacy of Tansen, one of the greatest musicians in Indian history. The fort's rich heritage and the annual music festival make it an ideal destination for tourists looking to delve into India's multifaceted cultural tapestry.
2. Mandu, Madhya Pradesh
Nestled in the Vindhya Range, the historic town of Mandu boasts a remarkable collection of forts, palaces, and monuments that have witnessed centuries of history. The Afghan architectural style, exhibited through structures like the Jahaz Mahal (Ship Palace), Hindola Mahal (Swinging Palace), and the imposing Mandu Fort, creates a unique blend of grandeur and serenity. Mandu's tranquil lakes and lush gardens provide a stark contrast to the rugged terrain and ancient ruins, making it a perfect destination for history enthusiasts and nature lovers alike.
3. Chittorgarh Fort, Rajasthan
In the heart of Rajasthan lies the magnificent Chittorgarh Fort, an architectural marvel that has witnessed some of the most heroic tales of Rajput valor. Though not entirely forgotten, this colossal fort often remains overshadowed by the more touristy destinations in the state. The fort, which spreads over 700 acres, contains a wealth of historical structures, including the famous Vijay Stambh (Victory Tower) and Kirti Stambh (Tower of Fame). The impressive fortifications, grand palaces, and the poignant tales of Rani Padmini's bravery make Chittorgarh Fort a must-visit for anyone seeking to delve into Rajasthan's rich history.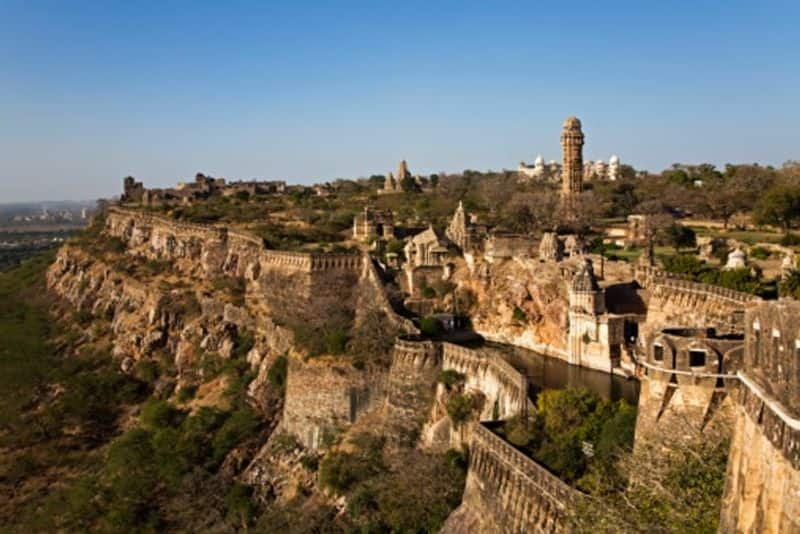 4. Bidar Fort, Karnataka
The Bidar Fort in Karnataka is a hidden gem that showcases the Deccan Sultanate's architectural finesse. Built during the 15th century by the Bahmani Sultans, this fort boasts intricate Islamic architecture, with splendid arches, minarets, and the grand Rangin Mahal (Painted Palace). Bidar's historical significance, combined with its lesser-known status, offers a unique experience for travelers interested in exploring India's lesser-explored regions. The fort's location on a plateau provides breathtaking panoramic views of the surrounding landscape.
5. Kangra Fort, Himachal Pradesh
Perched on a hilltop overlooking the Kangra Valley, the Kangra Fort is one of Himachal Pradesh's hidden treasures. This ancient fort, believed to be over a millennium old, has seen the rise and fall of many empires, including the Mughals, Sikhs, and British. The fort's enduring appeal lies in its remarkable architecture and the serene atmosphere created by lush greenery. Visitors can explore the various temples and structures within the fort complex, including the exquisite Ambika Devi Temple.
On this World Tourism Day, let's remember that India's historical and architectural heritage extends far beyond its most famous landmarks. These five forgotten forts and palaces, each with its unique stories and charm, offer a chance to explore the lesser-known but equally captivating facets of India's past. By rediscovering these hidden gems, travelers can gain a deeper appreciation for the country's rich history and cultural diversity, making their journeys all the more enriching and memorable.
Last Updated Sep 27, 2023, 12:33 PM IST