Teacher's Day Wishes: Images, greetings, Facebook and Whatsapp quotes
Happy Teacher's Day 2023: Explore the significance of Teacher's Day in India, honoring educators on Dr. Sarvepalli Radhakrishnan's birthday, with heartfelt wishes, greetings, and quotes to express gratitude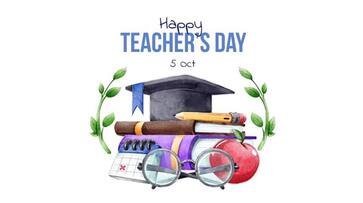 Teacher's Day in India is a cherished occasion, celebrated annually on September 5th, to pay tribute to the invaluable contributions made by teachers in shaping the future of the nation. This special day is dedicated to the remarkable educators who serve as the guiding lights, imparting knowledge, wisdom, and values to their students. It is a day when students express their gratitude and admiration for their teachers through various gestures, making it a heartwarming and memorable event.
The significance of Teacher's Day in India can be traced back to the birth anniversary of one of the greatest teachers and philosophers, Dr. Sarvepalli Radhakrishnan. Dr. Radhakrishnan, who later became the second President of India, was not only an eminent scholar but also an exemplary teacher. In honor of his illustrious career, his birthday was chosen as the ideal date to celebrate the dedication and hard work of teachers across the country.
On this special day, students from all walks of life come together to show their respect and appreciation for their teachers. Educational institutions, ranging from schools to colleges and universities, organize various events and activities to make teachers feel special. These events often include cultural programs, presentations, and award ceremonies, where outstanding teachers are recognized for their exceptional efforts.
In India, the role of a teacher goes beyond just imparting knowledge; they play a crucial role in character-building and moral guidance. They instill values, inspire creativity, and nurture the potential of their students. Teacher's Day is the perfect opportunity for students to acknowledge the profound influence teachers have on their lives.
Now, let's delve into the heartwarming ways in which you can convey your gratitude to your beloved teachers on this Teacher's Day:
Wishes for Teachers on Teacher's Day:
On this special day, I want to express my heartfelt gratitude to you. Your wisdom and guidance have shaped my future. Wishing you a very Happy Teacher's Day!
To the teacher who has not only imparted knowledge but also inspired me to be a better person, Happy Teacher's Day.
Happy Teacher's Day. Your patience and encouragement have helped me overcome challenges and achieve my goals. Thank you for being an extraordinary teacher
On this Teacher's Day, I want to acknowledge the hard work and dedication you put into nurturing young minds. You are a true inspiration
Your dedication and passion for teaching have made a lasting impact on my life. Thank you for being an incredible mentor. Happy Teacher's Day
Teacher's Day Greetings:
"To the guiding light in my life, Happy Teacher's Day!"
"You've made learning a joy, and for that, I'm forever grateful. Happy Teacher's Day!"
"Teachers like you are the reason behind our bright future. Happy Teacher's Day!"
"Thank you for being the mentor who believed in me even when I didn't. Happy Teacher's Day!"
"Your wisdom has ignited the flame of curiosity within me. Happy Teacher's Day!"
"Wishing you a day filled with the love and respect you deserve. Happy Teacher's Day!"
"Your dedication to education is an inspiration to us all. Happy Teacher's Day!"
Teacher's Day Quotes:
"A teacher takes a hand, opens a mind, and touches a heart." - Unknown
"The best teachers teach from the heart, not from the book." - Unknown
"A good teacher can inspire hope, ignite the imagination, and instill a love of learning." - Brad Henry
"The influence of a good teacher can never be erased." - Unknown
"Teaching is the profession that teaches all other professions." - Unknown
Teacher's Day in India is a day of heartfelt appreciation and gratitude towards the individuals who play a pivotal role in shaping the nation's future. It's a day when students can express their admiration, recognition, and affection for their teachers, honoring the selfless dedication that educators bring to their classrooms every day. Whether through heartfelt wishes, personalized greetings, or inspiring quotes, it's an occasion to make teachers feel valued and cherished for their noble contributions to society. Happy Teacher's Day.
Last Updated Sep 5, 2023, 7:15 AM IST