International Day of Peace 2023: Day, history, significance
The International Day of Peace, established by the UN in 1981, on September 21st, signifies the global commitment to peace, emphasizing history, significance, and the need for collective action in promoting harmony and unity while raising awareness about the devastating consequences of conflict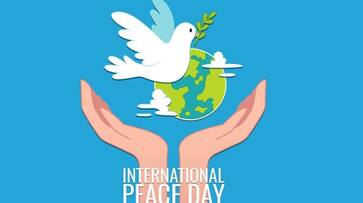 The International Day of Peace, celebrated annually on September 21st, serves as a global reminder of the essential need for peace, unity, and harmony in our increasingly complex and interconnected world. This day was established by the United Nations in 1981 and has since become a momentous occasion for individuals, communities, and nations to reflect upon the significance of peace and to work collectively towards a more peaceful world.
History
The origins of the International Day of Peace can be traced back to the early 20th century when the devastation of World War I led to widespread calls for lasting peace. In 1981, the United Nations General Assembly passed a resolution declaring September 21st as the International Day of Peace. This date was chosen because it coincides with the opening session of the General Assembly and serves as a poignant reminder to world leaders of their responsibility to promote peace and prevent conflict.
Since its inception, the International Day of Peace has evolved into a platform for various initiatives and activities aimed at promoting peace and reconciliation. The UN encourages nations to observe a global ceasefire on this day, allowing humanitarian aid to reach conflict zones and fostering an environment of dialogue and cooperation.
Significance
The significance of the International Day of Peace extends far beyond a simple 24-hour observance. It symbolizes humanity's collective aspiration for a world where violence and conflict are replaced by understanding, cooperation, and compassion. This day highlights the importance of diplomacy, conflict resolution, and peace-building efforts to address the myriad challenges facing our world.
One of the key aspects of this day is its role in raising awareness about the devastating impact of conflict on communities and individuals. It underscores the urgency of finding peaceful solutions to conflicts, both large and small. By drawing attention to the consequences of violence and war, the International Day of Peace encourages people to become advocates for peace and to support initiatives that promote conflict prevention and resolution.
Moreover, the International Day of Peace fosters unity among diverse cultures, nations, and religions. It encourages people from all walks of life to come together, transcend their differences, and work towards a common goal: a more peaceful world. This day reminds us that peace is not an abstract concept but a tangible goal that can be achieved through collective effort and commitment.
International Day of Peace serves as a powerful reminder of our shared responsibility to work towards a world free from violence and conflict. It honors the memory of those affected by war and inspires individuals and nations to take concrete steps towards peace. By promoting dialogue, understanding, and cooperation, this day plays a vital role in shaping a more harmonious and united world for future generations.
Also Read: World Alzheimer's Day 2023: Significance, theme, and need for awareness
Last Updated Sep 21, 2023, 11:39 AM IST