Eight Must Have Kitchen Appliances in India
Here are eight appliances without which your kitchen would look like a niche without a statue.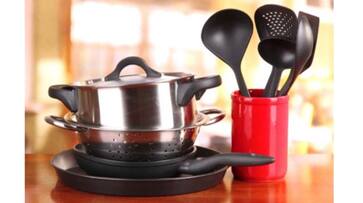 If you are fond of cooking and being applauded for your cookery, not to talk about yourself enjoying the work of your hand at the table, you need some kitchen appliances you cannot do without. Without them, your kitchen would look like a niche without a statue.
These appliances are…
Mixer grinder
Gas or induction hob
Pressure cooker
Microwave
Toaster and sandwich maker
Hand-held blender
Kitchen hood &
Dishwasher
There are reasons why they are so important. Here…
Mixer Grinder
You cannot imagine a kitchen in India without a mixer grinder…Because there is hardly any recipe that does not involve a cooking process that requires it. It is designed as an all-purpose device that can do both dry and wet grinding, blending, making purees, extracting juices, etc. What makes it fit for all such tasks is its bowls and differently designed blades.
This appliance may have different configurations and shapes. If you need to save counter-space, the tower mixer grinder is for you. These configurations have implications for its efficiency, safety and durability.
Gas and Induction Stoves
Both gas and induction stoves are good in their place. But the choice between the two rests with people who are to use them. Some people prefer gas stoves whereas some induction stoves. The choice may depend upon personal situation.
For instance, if you are a single professional and may relocate in different parts of the country for professional reasons, the induction stove is the best choice for you due to their portability. Apart from portability, what makes it extremely handy is the number of presets that are given for different dishes and customizable temperature settings. No less important is the timer function that shuts it off when the set time is reached. And even if you turn it on, it won't until and unless you put a pan on it. The downside of induction stoves is that you have to have induction friendly utensils for it.
The state-of-the-art gas hobs in these categories are extremely interesting, having internet connectivity for taping into inexhaustible online resources.
All these features you don't have in an ordinary gas stove. It not only looks good with the glass top that it comes with, it also features a number of gas burners, allowing you to prepare a number of dishes simultaneously. If you don't want to be bothered with lighters and matchsticks, there is the electric ignition for you.
Pressure Cooker
It shows impressive range of designs and capacities. It can be electric or induction or gas stove pressure cooker, inner lid or outer, steel or anodized aluminium or non-stick, traditional or smart, for an individual or a large size family.
Of all types, the best pressure cooker is truly unique in many respects. This is because it comes with a number of functions and preset programs for specific recipes. It takes cooking on altogether different level.
Microwave
It is the most energy efficient way of cooking and heating food, making use of electromagnetic waves for the purpose. Lavanay, an author at EnergyConversionDevices.com with a background that closely associates him with kitchen and the manifold processes that take place in it, points out the benefits of this particular appliance in the following words:
"….they allow you to prepare food faster as compared to when you are using other cooking devices such as gas stove and pan. They are also equipped with amazing features such as user friendly controls, auto-cook menu, LCD display and timer among others. These features enable them to provide uniformly cooked foods within minutes."
The downside is that it cannot bake food as well as OTGs can.
Toaster and Sandwich Maker
These are meant for people who never like to have tea or coffee without light breakfast, especially, buttered toasts and sandwiches. All that they need to do is keep in mind their requirements…how many toasts/sandwiches they want at one go.
Hand Held Blender
It would be an error to think that if you have a mixer grinder, you can dispense with a hand held blender. On the contrary, there are hand blenders that come with all the features that mixer grinders have, and they are to be preferred over the latter because of their extreme portability. Hand held blender doesn't require any counter space at all. That is the main take away of its concept.
Kitchen Hood
In Indian situation, the hot oily fumes, tiny oil particles and smoke that are generated due to cooking, make kitchen the most repulsive part of the house. The kitchen hood offers the best solution to keep it well-ventilated.
There are two types of kitchen hood available in the market: ducted and ductless. And how effective are they? Well, you get the glimpse into their efficacy from the info we gathered from the ECD website:
"…a ductless chimney performs the functions of 8 exhaust fans while a ducted chimney is equal to 15 exhaust fans."
That's something, isn't it?
Dishwasher
This is for people who abominate the task of cleaning utensils. Most of the part it resembles a washing machine and works in similar fashion. Both appliances are also the same in respect to the end result that you achieve through them. The only difference between the two is that the utensils are not tumbled in a dishwasher in the same way that cloths are in a washing machine. Rather it makes use of heated vapor for cleaning. Since it works at a very high temperature inside, you cannot clean utensils made of materials like plastic.
Finally, it comes in many different types that need to be installed in different ways as per the requirements of your kitchen.
If your kitchen doesn't lack any of these, they would literally make your kitchen worth taking a tour to often times in a day.
Disclaimer: This is a featured content
Last Updated Aug 28, 2021, 6:24 PM IST