Chhath Puja 2023: Sandhya Mishra from Bihar sets to offers 127 soops; oversees rituals for 65 families
Bihar's devotee extraordinaire, Sandhya Mishra, marks 33 years of Chhath Puja devotion, plans to offer 127 soops in a spectacle drawing pilgrims from across India.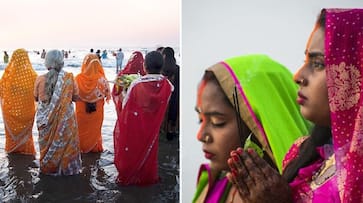 Sandhya Mishra, who lives in Bhagalpur, Bihar, is well-known for her strong commitment to the Chhath fast. Every year, she collects more than 100 bamboo trays, called soops, as a part of her dedication. This year, she aims to increase the number to 127 soops in honor of Chhathi Maiya. Celebrating Chhath for 33 years, Sandhya has become a symbol of faith, attracting devotees not only from Bihar but also from distant places like Ranchi, Bengaluru, Khagaria, and Nagpur who seek her active involvement in the sacred Chhath rituals.
Sandhya's Chhath journey began in 1989 when, prompted by her mother-in-law's wish for a grandson and facing challenges in conceiving a male child, she started observing the Chhath festival. Her sincere prayers to Chhathi Maiya were answered, and since then, she has faithfully observed Chhath as a way of expressing gratitude for the blessing of a son.
In the significant year of 2021, Sandhya achieved a remarkable feat by offering a record 137 soops to the Sun God during her Chhath celebrations. Reflecting on her modest start with just 11 soops in the first year, she describes how the growing number of people seeking her blessings led to the organization of Chhath festivities at her home. This year, she takes on the responsibility of overseeing Chhath rituals for 65 families, bringing devotees from Ranchi, Bengaluru, Khagaria, and Nagpur to join in the celebrations.
Despite the challenge of spending about four hours in the water during the Chhath fast, Sandhya claims to never feel tired, attributing her enduring stamina to the support of the community and the festive atmosphere. Stressing the deep significance of Chhath as Bihar's most important festival, she highlights the unity and collaboration that define the celebration, bringing together people from diverse regions who believe in the festival's inherent power to fulfill their wishes.
Chhath Puja involves various rituals, including a ritual purification bath (Nahay Khay) in a sacred river, strict fasting, careful preparation of special offerings, and the performance of "arghya" – offerings to the setting and rising Sun. Mainly observed by devoted women, the festival reaches its climax with the reverential worship of the sun during its crucial setting and rising moments.
ALSO READ: Chhath Puja 2023: Delicious traditional dishes enjoyed during this festival
Last Updated Nov 16, 2023, 12:40 PM IST