Bhai Dooj 2023: Significance, history, date and timings
Discover the significance, date, timings and traditions of Bhai Dooj, a cherished Hindu festival celebrating the bond between brothers and sisters.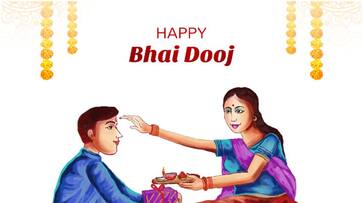 Bhai Dooj, also known as Bhai Phota in Bengal, is a special Hindu festival celebrated right after Diwali. It's a day to honor the strong bond between brothers and sisters. The term "Bhai" means brother, and "Dooj" refers to the second day after the new moon. On this day, sisters show their love and care for their brothers by performing aarti (a worship ritual) and putting a tilak (a red mark) on their foreheads, praying for their well-being and long life.
Mythology and Significance of Bhai Dooj
The festival has deep roots in mythology, with different stories across India. One popular tale is about Lord Krishna and his sister Subhadra. It is said that after Lord Krishna defeated the demon Narakasura, he visited his sister Subhadra, who welcomed him with aarti and tilak. This tradition is believed to have inspired the Bhai Dooj customs we follow today.
Another story is about Lord Yama, the god of death, and his sister Yamuna. According to this legend, after a long separation, Lord Yama visited his sister Yamuna, who warmly welcomed him by applying a tilak on his forehead. Lord Yama was so moved by his sister's love that he declared any brother receiving a tilak and aarti from his sister on this day would be blessed with a long and prosperous life.
Bhai Dooj is a time for families to come together, celebrating with rituals, feasting, and exchanging gifts between brothers and sisters. It strengthens the love and friendship within the family, emphasizing the importance of these sibling relationships in Hindu tradition. The festival is not just about family and culture; it also carries spiritual significance. The act of expressing love and respect for siblings on Bhai Dooj is believed to bring blessings and well-being. The festival goes beyond the material and highlights the spiritual aspect of strengthening family ties and promoting harmony.
When is Bhai Dooj? Is it on 14th or 15th?
This year, the joyous festival of Bhai Dooj is anticipated to be celebrated with great enthusiasm throughout India, extending over two days. The auspicious Muhurat for the festival is set to begin on November 14 and continue through November 15. This extended timeframe provides siblings with many opportunities to engage in the traditional customs and rituals of Bhai Dooj.
Bhai Dooj Timings
The auspicious Bhai Dooj will commence on Tuesday, November 14, is slated to start at 01:10 PM and conclude at 03:19 PM, offering a duration of 2 hours and 9 minutes. Furthermore, the Dwitiya Tithi is set to commence at 02:36 PM on November 14 and conclude at 01:47 PM on November 15.
Last Updated Nov 14, 2023, 7:30 AM IST