7 delectable Kerala monsoon snacks to savour during rainy days
Indulge in the flavors of Kerala with these 7 delicious monsoon snacks. From crispy banana fritters to steaming hot pazhampori, these snacks will make your rainy days even more enjoyable.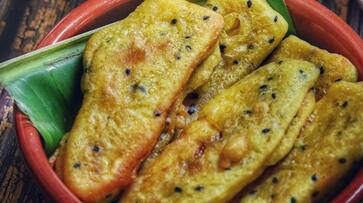 When the monsoon rains pour down in Kerala, the flavors of this enchanting land come alive. And what better way to savor the rainy season than with delicious snacks that tickle your taste buds? From crispy and savory to sweet and indulgent, Kerala offers a range of snacks that are perfect for munching on while enjoying the downpour.
Indulge in the flavors of Kerala with these 7 delicious monsoon snacks. Whether you prefer the crispy pazhampori, the savory parippu vada, or the sweet unniyappam, these snacks are sure to make your rainy days even more enjoyable. So, sit back, relax, and savour the authentic taste of Kerala cuisine during the monsoon season.
From Mangalore Bajji to Maddur Vada, 7 delicious Karnataka snacks to savour during monsoons
Here are 7 delicious Kerala snacks to savor during the monsoon rains:
1. Pazhampori (Banana Fritters):
One of the most popular snacks in Kerala, pazhampori is made by deep-frying ripe bananas coated in a batter of flour and spices. The result is a crispy and sweet snack that pairs perfectly with a cup of tea.
2. Parippu Vada (Lentil Fritters):
Crispy on the outside and soft on the inside, parippu vada is a savory snack made from ground lentils, onions, and spices. Enjoy it with coconut chutney for a burst of flavors.
3. Unniyappam:
These small, round, and fluffy fritters are made with ripe bananas, jaggery, rice flour, and cardamom. Unniyappam is a delightful sweet snack that is often prepared during festivals and enjoyed during the monsoon season.
Lucknowi Biriyani to Rabri: 6 UP cuisine delights to savour
4. Thattu Dosa:
Thattu dosa, also known as street-style dosa, is a thin and crispy crepe made from fermented rice and lentil batter. It is typically served with coconut chutney and spicy sambar, making it a filling and satisfying snack.
5. Sukhiyan:
Sukhiyan is a deep-fried snack made with a filling of sweetened green gram dal (mung beans) wrapped in a batter of rice flour and jaggery. The combination of the crunchy outer layer and the soft and sweet filling makes it a delightful treat.
6. Kozhukkatta:
Kozhukkatta is a steamed dumpling made with rice flour and filled with a sweet mixture of jaggery and grated coconut. These dumplings are then steamed and can be enjoyed warm for a comforting snack.
7. Achappam:
Achappam, also known as rose cookies, are crispy and delicate snacks made with rice flour, coconut milk, and sugar. These intricate, flower-shaped cookies are deep-fried to perfection and are a favorite during the monsoon season.
Taj Mahal to Jhansi Fort: 10 historical gems of UP
Last Updated Jul 3, 2023, 7:03 PM IST