From Mangalore Bajji to Maddur Vada, 7 delicious Karnataka snacks to savour during monsoons
Discover the mouthwatering world of Karnataka monsoon snacks. From crispy vadas to spicy pakoras, explore the top 7 delicious snacks to savor during the rainy season in this southwestern state of India. Experience the rich culinary heritage and traditional flavors of Karnataka's monsoon delicacies.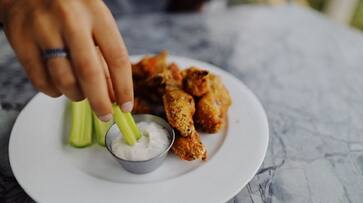 Monsoons in Karnataka bring forth a magical combination of rain-washed landscapes and a craving for delectable snacks. This southwestern state of India boasts a rich culinary heritage, offering an array of mouthwatering delicacies.
From crispy vadas to piping-hot pakoras, Karnataka's monsoon snacks tantalize the taste buds and provide the perfect accompaniment to the rainy weather. Let's explore seven irresistible snacks that will leave you longing for more during the monsoons.
Lucknowi Biriyani to Rabri: 6 UP cuisine delights to savour
1. Maddur Vada:
Originating from the town of Maddur, this crispy and flavorful snack is a must-try during the monsoons. Made with a mix of rice flour, semolina, onions, and spices, Maddur Vada is deep-fried to perfection. Its distinct taste and crispy texture make it a favorite among locals and visitors alike.
2. Mangalore Bajji:
Mangalore Bajji, also known as Goli Baje, is a popular monsoon snack in coastal Karnataka. It is made by mixing flour, yogurt, spices, and a hint of baking soda, resulting in a fluffy and light fritter. Served hot with coconut chutney or tomato ketchup, Mangalore Bajji is a delightful treat for rainy days.
3. Mirchi Bajji:
If you're a fan of spicy snacks, Mirchi Bajji is a must-try. Large green chilies are filled with a tangy masala stuffing, dipped in a gram flour batter, and deep-fried until golden brown. The combination of the spicy chili and crispy coating is sure to satisfy your taste buds, leaving a lingering heat.
Taj Mahal to Jhansi Fort: 10 historical gems of UP
4. Nippattu:
Nippattu is a popular savory snack that hails from Karnataka. Made from a mixture of rice flour, roasted peanuts, spices, and gram flour, these crispy discs are a delightful blend of flavors. Nippattu is a perfect accompaniment to a cup of hot tea on a rainy evening.
5. Masala Puri:
Masala Puri is a popular street food snack found across Karnataka. It consists of crispy, deep-fried puris (crackers) topped with a spicy and tangy mixture of mashed potatoes, onions, tomatoes, and a medley of spices. This savory dish packs a punch and is sure to leave you craving more.
6. Onion Pakoda:
Onion Pakoda is a classic monsoon snack enjoyed across India, including Karnataka. Sliced onions are mixed with gram flour, spices, and herbs, then deep-fried until golden and crispy. These crispy fritters are best enjoyed with a cup of steaming masala chai.
7. Mysore Bonda:
Mysore Bonda is a round-shaped snack that is popularly enjoyed during the monsoons. Made from urad dal (split black gram) batter, these fluffy and golden-brown balls are crispy on the outside and soft on the inside. Mysore Bonda is typically served with coconut chutney or sambar, making it an irresistible snack for the rainy season.
Last Updated Jul 3, 2023, 3:40 PM IST