College entrance exam brings South Korea to a standstill
More than 6,00,000 students appeared for Suneung this year.
High scorers get admission in top South Korean universities.
It is an eight-hour long test starting at 9 am.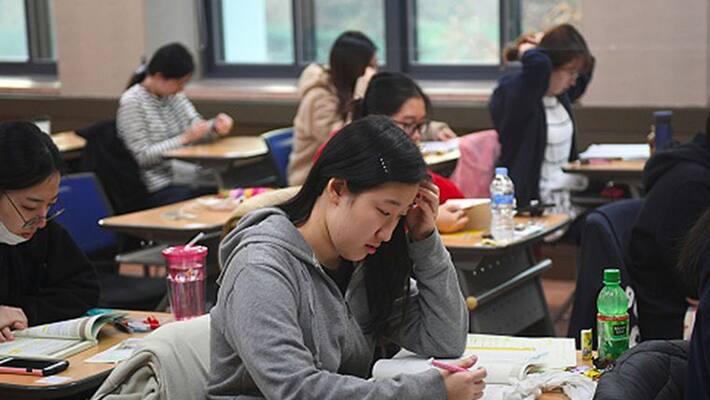 Last week, South Korean had the Suneung or the College Scholastic Ability Test that brought the country to a standstill. The high-school senior students sit for this national college-entrance exam for which many prepare since kindergarten.
This year, more than 6,00,000 students appeared for this exam and ensured that the students are not interrupted by anything, authorities banned heavy trucks, government officers and businesses opened late including Seoul's stock market that opened an hour late than usual. 
Transport authorities also halted flight landings and take-offs for 30 minutes on that day afternoon coinciding with the main language listening test. Works on contruction sites were also suspended for the day.
Those students who were running late for this eight-hour long test, local police provided taxi services. This year, the test was conducted through 1,183 centres and started at 9 am and ended in the afternoon.
Well-wishers gave 'yut' - a kind of tuffy which happens to be a good luck sign to the students walking towards their exam centres. Parents of the students were seen praying at temples and churches where monks and pastors hold special sessions for the students.
In short, the whole country became a part of this exam and made sure that the students are given all the support that they need to sit for this crucial test that determined the fate of the students as well as of the nation. 
The top scorers of Suneung will get admission in South Korea's top universities, namely Seoul National University, Korea University, and Yonsei University. Those who fail to qualify or wants better results can take the exam next year. 
The South Korean students need 12 years of education and preparation to sit for this test. Unlike many other countries and education systems, this is the only way to get through the best universities in South Korea making it a significant part of everyone's life in the country. 
The other processes available to get through any college or university are considered an easy way.
The author of Education Fever: Society, Politics, and the Pursuit of Schooling in South Korea, Michael Seth, dig the history of South Korea's Suneung obsession and traces its roots to the 10th-century civil-service exam of the country that guaranteed government job and a social status. 
This exam was abolished in the 19th century by the Japanese colonial rule and only allowed elementary education in Korea, and by the end of World War II, only 5% adult in the country were educated. 
This modern form of college entrance test was introduced in the 1950s, and ever since then the state has made a conscious effort to maintain the standard of education among all citizens. 
Though there have been debates on the implication of such a system on students, but it exists, and every year, the state provide all possible help to students who sit for this exams, even if it means pausing the whole nation. 
Last Updated Mar 31, 2018, 6:34 PM IST