Tipu Jayanti: Will narrate the barbarity of Tipu, let government handle it, dares MP Hegde
After his decline, now Anant Kumar Hegde has tweeted that he will follow the protocol associated with Tipu Jayanti
However, his tweets have raised a few eyebrows, considering the clashes that the celebration witnessed a few years ago
In 2016, MP Hegde was arrested for causing disturbance to the Tipu Jayanti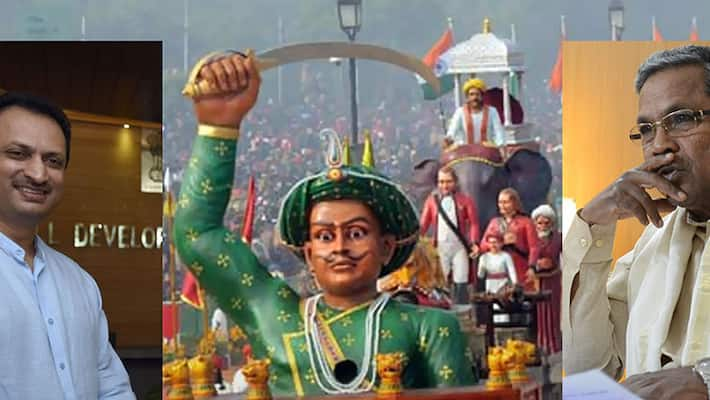 Union Minister of State for Skill Development and Entrepreneurship Anant Kumar Hegde who had requested Chief Minister Siddaramaiah not to invite him to the Tipu Jayanti celebrations - scheduled for November 10 - has now backtracked but only with a strong dossier, at least that's what his tweets indicate.
In a series of tweets, Hegde has said that "If Siddaramaiah government insists on including my name in the Tipu Jayanti invite, on the pretext of following protocol, I will attend the same." However, later he has stated that he would participate only to narrate (in detail) the tyrannical history of the mass murderer. Let the government handle the situation (sic).
It may be recalled here that Hegde declined to attend the Tipu Jayanti terming it a shameful even and even calling Tipu a "mass rapist". Chief Minister Siddaramaiah had taunted MP Hegde that "The invite has been sent as per protocol. It's up to them to attend the programme." Hegde's comments had attracted sharp criticism from many quarters. Not just Congress, even former prime minister Deve Gowda too had condemned Hegde's statements. 
On pretext of following protocol, if @siddaramaiah's govt insists on including my name in #TippuJayanti invite I would attend the same 1/2

— Anantkumar Hegde (@AnantkumarH) October 21, 2017
Only to narrate the tyrranical history of the mass marauder in detail. Let the Govt handle the situation #TippuJayanthi 2/2

— Anantkumar Hegde (@AnantkumarH) October 21, 2017
However, now Hegde's tweet has raised a few eyebrows, especially for its tone. Ever since the Siddaramaiah government has planned the Tipu Jayanti celebration - every year on November 10 - the BJP has been vehemently opposing it. In 2015, the celebration turned violent at many places in Karnataka.
In Madikeri, two persons including a Vishwa Hindu Parishad leader was killed during the celebration, and this was the first time that the state was commemorating the birth anniversary of the Mysore ruler. Stray incidents of communal clashes were also reported from Mysuru, Chamarajanagar and other areas that marred the celebration.
Not just that MP Hegde was arrested last year for causing disturbance to the celebrations in Uttar Kannada district.
Considering the sensitivity attached to the event - especially after the 2015 riots - the MP should have weighed his words before putting out there. While MP  Hegde has challenged the state government to handle the situation, it is to be seen how the Congress government would deal with the law and order situation that may be under pressure after the MP's tweet.  
Last Updated Mar 31, 2018, 6:34 PM IST