Facts you didn't know about Nivedita Gowda and her 'Kanglish'
Nivedita Gowda is the youngest contestant on the Kannada reality show
She is being trolled for her Anglicised Kannada on social media
A native of Mysuru, Nivedita has been a model too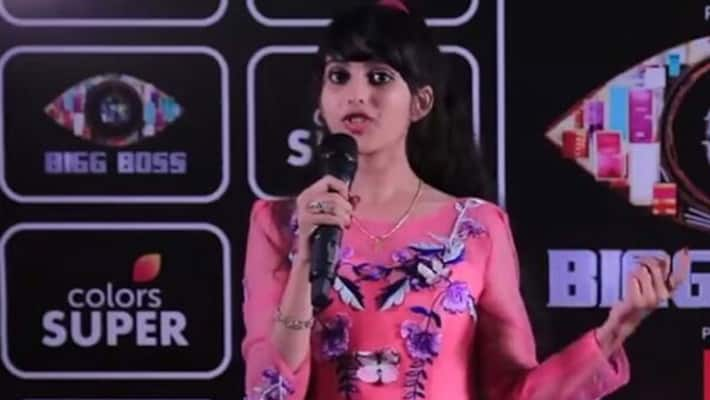 Nivedita Gowda. That's the name that has caught the attention of Kannadigas for this edition of Kannada reality show, 'Bigg Boss 5'. Be it her for Kanglish or even her animated expressions, Nivedita Gowda has become an internet sensational. So much so that ever since she entered the Bigg Boss house, she is being trolled like no other.
When Barbie doll saw our beautiful Nivedita , even she exclaimed, " Oh my Gowda" !!#BBK5 #YoNiveditaSoOriginal pic.twitter.com/fukeQyTBlH

— Mystic Heart (@MysticHeart25) October 15, 2017
Mysoreans when Nivedita comes back from Bigg Boss House. #BBK5 pic.twitter.com/A85qjKI31h

— Datt (@dattdgp) October 15, 2017
But her mother Hema Ramesh unperturbed by these trolls, told Kannada Prabha that "We used to love when she would talk in Anglicised Kannada when she was a child. But we did not correct her, and this remained with her. It's not her fault. She does not put an accent while talking to many others. Many troll her. She is just 18-year-old and isn't this an achievement that she is participating in a reality show at such a young age."
Born and brought up in Mysuru, Nivedita is the youngest contestant - she is only 18 - on the show. She is studying BCA from Mahajana's College in Mysuru. A popular face on the campus, Nivedita, is known as a dubsmash artiste. In fact, Bigg Boss host, Kichcha Sudeep too had introduced her like that. Nivedita unknown so far now has a fan page dedicated to her on social media. Here are facts that we bet you did not know about this new 'Barbie doll' of Kannada television.
Nivedita Gowda's father is Ramesh Gowda and her mother, Hema. She is a younger brother.
A student of BCA in Mahajana's College, Nivedita has been the super model of her college. She has won many fashion shows conducted at the college and also outside. She has modelled too.
While many criticise her for anglicised Kannada, it is said that Nivedita helps her neighbour's children in coping up with her English. Also, she speaks Kannada with her parents (Never mind the Anglicised Kannada). Her parents have nick-named her as 'Lini'.
Nivedita loves Barbie dolls. She even revealed it in the Bigg Boss. What more, she even loves dressing like them!
She dub smashed many of dialogues from Sudeep's movies that have made her popular. According to some reports, it's a stress-buster for her.
It's been a week since she entered the Bigg Boss house and she has already been nominated for this week. But her popularity seems to be rising. There are eight fan pages dedicated to Nivedita! She has over 5,000 followers on social media platforms.
Being a Mysurean, Nivedita loves the popular sweet, MysorePak.
Last Updated Mar 31, 2018, 6:37 PM IST