If JD(S) allies with BJP, I will disown Kumaraswamy, warns party supremo Deve Gowda
Former PM HD Deve Gowda hints at disowning HD Kumaraswamy if he aligns with BJP

He was reacting to Congress' allegations that Kumaraswamy had met BJP National President Amit Shah

Earlier in 2006, JD(S) had formed an alliance with BJP, which cost the party a lot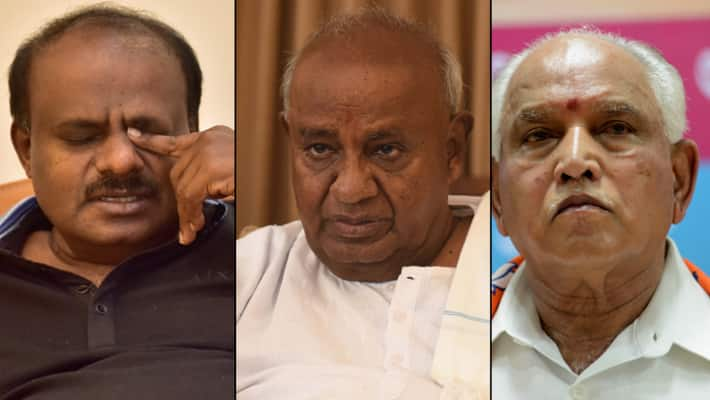 Former PM HD Deve Gowda, who is also the JD(S) President, pointed to disowning his son and CM-seat aspirant HD Kumaraswamy if there is any alliance with the BJP, reported Suvarna News.
He was reacting to Congress' allegations that JD(S) state chief HD Kumaraswamy met BJP National President Amit Shah. Deve Gowda is said to have clarified that there will be no alliance between JD(S) and the BJP.
Earlier. JD(S) had formed an alliance with the BJP in 2006, where Kumaraswamy of JD(S) was to be the Chief Minister for 20 months and BJP's Yeddyurappa for the next 20 more months. But with Kumaraswamy refusing to step down after 20 months, there was high drama in state politics. This eventually led to the fall of the government and BJP was elected to power for the first time in Karnataka, with Yeddyurappa shedding tears playing the sympathy card claiming to be cheated by JD(S) and Kumaraswamy.
This had cost the regional party dearly, which took many years to come back to form. Deve Gowda also warned his son that he should never forget what the alliance with BJP in 2006 did to JD(S) in the state.
However, Kumaraswamy too has reportedly rubbished the rumours that he met Amit Shah. 
Last Updated Apr 30, 2018, 7:21 PM IST