Yathindra's phone conversation should be investigated: Karnataka Former Minister Araga Jnanendra
Former Home Minister Araga Jnanendra calls for an investigation into a phone conversation involving Yatindra Siddaramaiah, suspecting potential misuse of power. BJP demands transparency, citing concerns about the Congress government's performance and calls for legal actions against Yathindra, emphasizing accountability in Karnataka's administration.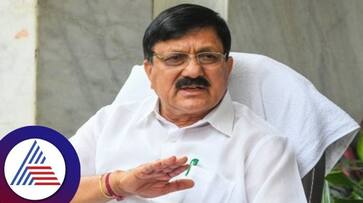 Calls for an investigation into a phone conversation involving Yatindra Siddaramaiah, the son of Chief Minister Siddaramaiah, have intensified following remarks by former Home Minister Araga Jnanendra. He emphasized the need to delve into the content of the conversation, its recipient, and the directives given, shedding light on the potential misuse of power.
Expressing his concerns to reporters in Tirthahalli, Jnanendra raised suspicions about Yatindra Siddaramaiah's conduct, suggesting that his actions seemed to overshadow the authority of his father, the Chief Minister. Jnanendra urged for transparency in this matter, emphasizing the importance of addressing public concerns by providing a thorough explanation.

Controversial video of K'taka CM Siddaramaiah's son Yathindra emerges; BJP calls it 'cash for transfer' proof
Highlighting the governance under the Congress regime, he lamented the apparent lack of developmental progress in the state within the first six months of their tenure. He criticized the administration for acquiring a negative reputation despite its short tenure, comparing it unfavourably to the previous government's performance.
The Bharatiya Janata Party (BJP) echoed these sentiments, demanding an investigation into the viral video featuring Yathindra Siddaramaiah. Former ministers R. Ashok, Dr. C. N. Ashwatthanarayan, and Kota Srinivasa Pujari urged legal action against Yathindra, alleging misuse of power since the Congress government assumed office.

Karnataka Election 2023: BS Yediyurappa's son Vijayendra to contest from Shikaripura, rules out Varuna

Accusing the Congress of recurrent malpractices, R. Ashok emphasized the urgency of scrutinizing the video content and called for the resignation of Chief Minister Siddaramaiah. Dr Ashwatthanarayan echoed these sentiments, labelling the video as a prime example of interference in administrative matters and urged immediate legal actions against Yatindra Siddaramaiah.
Critics highlighted concerns about the misuse of authority and emphasized the need for accountability, particularly in light of Siddaramaiah's previous emphasis on law and order.
Last Updated Nov 17, 2023, 12:22 PM IST