Will Bengaluru's Kambala set new record with longest Kambala track? Check details
Preparations for the Bengaluru Kambala festival are in full swing as the city gets ready to introduce a record-breaking 'Kambala Kare' track. Initiated by DCM DK Shivakumar, this 151-meter track will be the longest of its kind, surpassing the previous 149-meter record. The event, marking the 50th anniversary of Bangalore Tulukuota, is scheduled for November 25-26 and is expected to draw prominent personalities.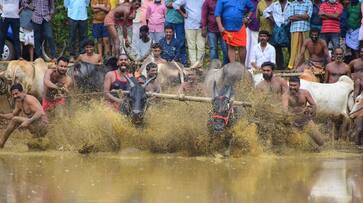 With just one month remaining until the Bengaluru Kambala festivities kick off at the palace grounds, preparations are in full swing for an event that's poised to create a remarkable record, all thanks to the introduction of a 'Kambala Kare'
A 'Kambala Kare' denotes a track upon which athletes compete. Recently, DCM DK Shivakumar, the Honorary President of Bengaluru Kambala, initiated the construction of this special track, and it's now set to make history.

Karnataka Deputy CM allocates Rs 1 crore subsidy for Bengaluru Kambala
The Bengaluru Kambala Kare measures an impressive 151 meters in length, making it the longest Kambala track ever constructed. Up until now, the largest Kambala track was that of Puttur Kambala, spanning 149 meters. However, the credit for the largest track will now be bestowed upon Bengaluru Kambala.

Bengaluru: Kambala on November 25,26; Aishwarya Rai, Anushka Shetty likely to attend
The event, marking the 50th anniversary of Bangalore Tulukuota, will feature Bengaluru Kambala, and the monumental track was created to commemorate this significant occasion. Sundar Raj Rai, an office bearer of the Bengaluru Kambala Committee, confirmed the news, highlighting the significance of this achievement.
This Kambala is tagline as 'Bengaluru Kambala Namma Kambala, led by Puttur MLA Ashok Rai, is scheduled for November 25 and 26. Several committees, led by singer Gurukiran and businessman Gunaranjan Shetty, have been formed for this grand celebration. The event is expected to draw participation from numerous film artists, sportspersons, and politicians.
Last Updated Oct 25, 2023, 1:57 PM IST