Want to date in Bengaluru? Read this woman's tips about dating in traffic
Bengaluru residents are turning the city's notorious traffic congestion into a unique dating opportunity. Prakriti Sharma's humorous dating tip suggests meeting earlier and commuting together during peak traffic to spend more time together and assess compatibility. The trend has sparked humor and conversation on social media, with some jokingly calling it a "litmus test" for relationships and comparing it to an "arranged marriage" experience in Bengaluru's traffic.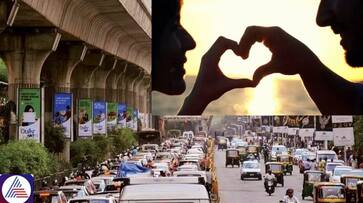 Bengaluru's notorious traffic congestion, a long-standing woe for its residents, has sparked an unusual dating trend, turning hours spent in traffic jams into a unique opportunity for lovebirds. Prakriti Sharma, a Bengaluru local, recently shared a humorous yet ingenious dating tip that has captured the hearts and funny bones of many. Her suggestion? Embrace the traffic and use it to your advantage.
Sharma's dating hack is deceptively simple: "Try meeting earlier and commuting together to your favourite spot during peak traffic hours. This way, you'll get to spend much more time together, and you'll also find out if they have any anger issues."

Saba Azad on being trolled for dating Hrithik Roshan: "Why are you waiting for my blood?"
This clever take on dating during traffic gridlock quickly gained popularity on social media, with Bengaluru residents sharing their own experiences and adding their witty remarks to the conversation.
One user playfully mentioned that the experience of navigating traffic together serves as their "litmus test" for compatibility. Another user lamented the missed potential of carpooling apps doubling as dating platforms, adding humour to the restrictions on these apps.
The humour continued as one user jokingly referred to Bengaluru traffic as the backdrop for an "arranged marriage" experience, humorously pointing out that you may discover your date is not the one for you while stuck in the infamous Silk Board traffic.

Unauthorised shops along congested roads in Bengaluru will be removed: DyCM DK Shivakumar

Others chimed in, suggesting that Bengaluru's traffic issues could turn into a "national breakup event" and humorously alluding to it as a kind of "pandemic." To add to the hilarity, someone humorously suggested that the city planners are making the traffic experience even better by adding a tunnel, likening it to a candlelight dinner.
In the midst of traffic woes and frustrations, Bengaluru residents like Prakriti Sharma are finding lighthearted ways to navigate the challenges and discover love in the unlikeliest of places – the city's notorious traffic jams.
Last Updated Oct 9, 2023, 4:00 PM IST