Unauthorised shops along congested roads in Bengaluru will be removed: DyCM DK Shivakumar
Karnataka Deputy Chief Minister D.K. Shivakumar addressed the Outer Ring Road Companies Association (ORRCA) to tackle traffic congestion in Bengaluru. He pledged to connect transportation systems, prioritize congested areas, remove unauthorized shop-fronts, optimize tax collection, and encourage CSR funds for rural education, emphasizing the road's economic significance.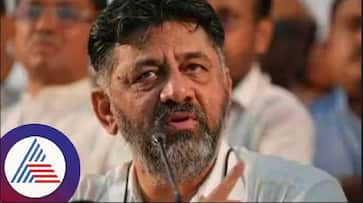 Karnataka Deputy Chief Minister DK Shivakumar has said that connecting the Bengaluru metro and other transportation systems can ease address traffic congestion issues that plague the city.
Addressing the Outer Ring Road Companies Association (ORRCA), he assured that the government would prioritize solving these issues to save people's time and ensure smooth commuting. Notably, one-fifth of Bengaluru's revenue comes from industries along the outer ring road, which states its significance.

Karnataka DyCM DK Shivakumar lands in controversy over letter seeking closure of Hubli riot case
To ease traffic jams, he identified 6 to 8 congested areas that will be addressed first. He pledged to identify and remove unauthorized shop-fronts causing road potholes and traffic jams within the next three months, without any political interference.

Karnataka: 'State BJP stands reason for Cauvery Injustice,' says DyCM DK Shivakumar
He also stressed that tax collection in Bengaluru does not align with the city's capacity, advocating for businesses and individuals to pay taxes proportionate to their assets. He encouraged IT companies and other businesses to allocate their Corporate Social Responsibility (CSR) funds to rural education, ensuring quality education for rural children.
In a meeting with ORRCA members, he discussed various challenges, involving officials from multiple departments, including BBMP and the police. The Deputy Chief Minister highlighted the importance of the outer ring road area, acknowledging its job creation and tax contribution. Regarding canal encroachments, he ordered officials to take action against violators, emphasising that state canals must remain free from encroachments.
Last Updated Oct 8, 2023, 9:39 AM IST