Series of accidents at Bengaluru prompts fire department to ramp up safety
The Bengaluru Fire Brigade is intensifying efforts to prevent fire accidents following recent incidents, including a deadly firecracker godown fire. The Fire Department is conducting safety inspections of establishments, ensuring precautionary measures and public safety. Non-compliant places will face FIRs, focusing on crowded areas to avoid future disasters.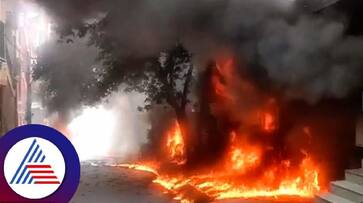 In light of a series of unfortunate fire accidents in Bengaluru, the fire brigade in the city is ramping up efforts to prevent such incidents. These fire accidents have been causing significant disturbances in the city, prompting authorities to take action.
The recent tragedies include a fire at a firecracker godown in Attibele, resulting in the tragic loss of 17 lives. Additionally, an Agarbatti factory fire in Vijayanagar led to the burning of eight bikes and left one person injured. Another fire incident occurred in Kengeri. Before these three incidents could fade from memory, another massive fire broke out in a cafe in Koramangala.

Bengaluru: 7 bikes razed in fire accident at Vijayanagar; check details
The blaze completely consumed the restaurant and extended to other parts of the four-storey building. During the incident, a young man had to jump from the building to escape the flames.
In response to this worrisome trend of frequent fire accidents, the Fire Department is taking proactive measures. The Director General of Police (DGP) for the Fire Department, Kamal Pant, has issued instructions for a comprehensive inspection of safety measures in all types of establishments, including pubs and restaurants in the city.

Bengaluru witnesses another blast at chemical factory, black smoke, smell reported, no casualty yet
The focus of the inspections is to ensure that precautionary measures are in place and that the safety of the public is a top priority. Firefighters are ready to review emergency rescue procedures and ensure that adequate safeguards are implemented. The DGP has directed officials to inspect all areas of Bangalore city and submit a detailed report.
In the event that any hotel, restaurant, or pub is found to be lacking the necessary fire safety measures, the station officials have been instructed to file an FIR with the local police station. Kamal Pant emphasizes the importance of checking the most crowded buildings, hotels, and restaurants. The recent incident in Koramangala has prompted the fire department to take strict action to prevent future fire disasters.
Last Updated Oct 19, 2023, 5:41 PM IST