SC adjourns Cauvery water hearing, protests erupt with farmers hurling on roads
The Supreme Court delays the Cauvery River water-sharing decision to September 21, causing anger. Protests erupt, with concerns about water depletion from the KRS reservoir. Critics blame the state government and legal experts and demand an assessment team. Multiple groups and individuals join demonstrations for a fair resolution.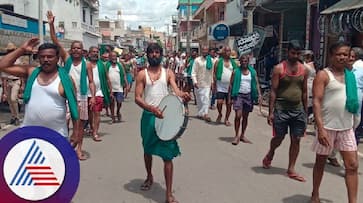 The Supreme Court on Thursday (September 7) delayed its decision on the Cauvery River water-sharing hearing until September 21 and has caused widespread anger among the people. The Pro-Kannada groups have organized marches and demonstrations, demanding a stop to water release from the KRS reservoir.
Farmers in the state who depend on Cauvery water for their crops are worried. Reports indicate that 18 TMC feet of water have already been used from the KRS reservoir, and if water continues to be released until September 21, the reservoir could run completely dry.

KRS dam water level tumbles to 99 feet: Farmers move Supreme Court against Karnataka govt
Critics are pointing fingers at both the state government and legal experts for not effectively presenting their arguments to the court and asking for an assessment team to visit the affected areas.
The Mandya District Farmers' Welfare Committee took to the streets in frustration, blocking the Bengaluru-Mysuru highway. Farmers and activists gathered near the statue of Sir M. Visveswaraiah in the city to protest the delay, expressing dissatisfaction with the central and state governments for not ensuring justice for the farmers.
This marks the third time the court has postponed its decision, leading some to speculate that it might be a strategy to continue sending water to Tamil Nadu. Protestors are unhappy with the government for releasing drinking water and possibly diverting surplus water to Tamil Nadu.
Various groups and individuals, including Sunanda Jayaram, K Boraya, Guruprasad Keragodu, former MLA G.B. Sivakumar, and others, joined the demonstrations, demanding a fair resolution to the Cauvery water dispute.

Cauvery Dispute: BJP hits the streets of Mandya slamming Karnataka govt decision to release water to Tamil Nad
Additional protests erupted in Mandya, with the Kasturi Karnataka People's Forum calling for a halt to water flow to Tamil Nadu from unclaimed Cauvery reservoirs. Demonstrators, including State President Ramesh Gowda, called for a favourable Supreme Court verdict for Kannadigas during their protests.
Kannada activists also marched in protest against the state government's decision to release water to Tamil Nadu from these reservoirs. In Jayachamarajendra Wodeyar circle, activists wore distinctive attire and chanted slogans against government officials, including Chief Minister Siddaramaiah and Deputy Chief Minister D.K. Shivakumar.
Last Updated Sep 7, 2023, 12:00 PM IST