Mysore Dasara: SWR announces special trains between Hubballi-Mangaluru via Bengaluru; check details
South Western Railway (SWR) introduces Dussehra Special Train Services (07303/07304) between Hubballi and Mangaluru Junction, offering 19 coaches for increased festive season passenger demand. The service runs from October 20 to 24, with stops through Bengaluru. For specific details, including fares and timings, visit the Indian Railways website. The initiative aims to provide convenient travel options during Dussehra.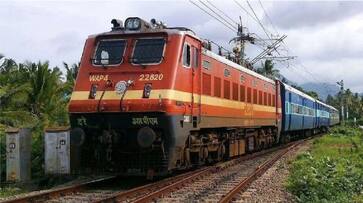 On the occasion of the Dussehra festival, the South Western Railway (SWR) has launched a special train service between Hubballi and Mangaluru Junction, with the first journey scheduled for October 20. This move is aimed at addressing the increased passenger demand during the festive season.
The Dussehra Special Train Services numbered 07303/07304, will operate between SSS Hubballi and Mangaluru Junction, with the train route passing through Bengaluru. On the occasion of Dussehra, train number 07303 will commence its journey from SSS Hubballi on October 20 and 23, arriving at Mangaluru Junction the following day. Similarly, train number 07304 will leave Mangaluru Junction on October 21 and 24, reaching SSS Hubballi station the next day.

Mysuru Dasara 2023: KSRTC to operate additional 2000 buses for passengers
Comprising a total of 19 coaches, these special trains offer a convenient travel option for passengers during the festive season. For specific details regarding fares, stops, and timings, passengers are encouraged to visit the official website of Indian Railways.

BMTC to enhance Dasara travel with 300 extra buses across Karnataka
On October 20, the train will depart from SSS Hubli at 3.30 pm, making stops at Haveri, Harihara, Davangere, Birur, Araseekere, Tumkur, Yeshwantpur, Chikka Banavara, Nelamangala, Kunigal, Shravanabelgola, Chennarayapatna, Hassan, Sakaleshpur, Subrahmanya Road, Kabaka Puttur, Bantwala, and finally, Mangaluru Junction at 9.40 am the following day. The train will arrive at Yeshwantpur at 11.55 pm.
The return journey will commence from Mangalore at 11.40 am, reaching Bengaluru at 9.50 pm and ultimately arriving at Hubli's SSS station at 5.45 am. This initiative aims to facilitate convenient travel options for passengers during the Dussehra festival.
Last Updated Oct 20, 2023, 1:06 PM IST