Metro rush madness: Viral video draws comparison to Bengaluru Metro vs Mumbai local trains (WATCH)
A video comparing crowded Bengaluru Metro to Mumbai locals sparks humorous debate on social media. Bengaluru's Purple Line extension to Whitefield sees a surge in passengers. Some defend the Bengaluru Metro's safety, while others highlight Mumbai locals' overcrowding and safety issues. The Purple Line extension attracted over 700,000 passengers in its first week.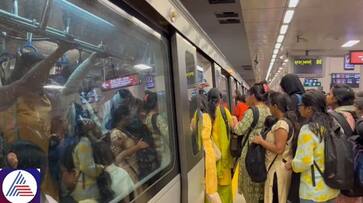 In the world of rapid urbanization and daily commuter woes, a recent video shared on social media has ignited a humorous debate comparing the bustling scenes of the Bengaluru Metro to the infamous rush of Mumbai locals. The clip captures a crowd of passengers hanging on for dear life in a Bengaluru Metro station.
While Mumbai has long been associated with its crowded local trains, Bengaluru, often the target of traffic jokes, finds itself in the spotlight. The video specifically features the recently extended Purple Line of the Bengaluru Metro, witnessing a surge in passengers travelling towards Whitefield. As the video made its rounds on social media, netizens began offering their own perspectives on the Bengaluru-Mumbai transportation rivalry.

Bengaluru Metro update: Tunnelling of 718 mtr along Pink Line complete; check details
One user attributed the rush to the city's ongoing migration, saying, "Because of migration, Bangalore is facing this issue." Another user humorously commented, "Bengaluru people laugh at themselves before laughing at others. Only a Bangalore resident will understand this ❤️‍🩹."

Bengaluru: Why is Central Silk Board flyover being closed for four months?
Notably, some users came to the defence of the Bengaluru Metro. One user emphasized that it's safer than the Mumbai locals, particularly during peak hours. Another criticized the original video poster, stating, "I never heard Bangaloreans laughing at Mumbaikars because Bangalore buses are also heavily crowded, so we understand their 'Dukh dard' too. These people who always complain are the ones who ride in chauffeur-driven cars."
Conversely, a few users pointed out that Mumbai locals are often overcrowded and not as safe as the Bengaluru Metro service. The recent extension of the Purple Line, from Baiyappanahalli to Whitefield, has led to a surge in Metro commuters. In the very first week of the extension, more than 700,000 passengers used the Metro in a single day.
Last Updated Oct 27, 2023, 11:29 AM IST