Bengaluru Metro update: Tunnelling of 718 mtr along Pink Line complete; check details
The Bengaluru Metro's Pink Line project achieved a significant milestone as TBM Rudra completed 718 meters of its designated drives in 100 days. The Pink Line spans 21.25 km, connecting Kalena Agrahara to Nagawara with 18 stations. Civil work at MG Road and Shivaji Nagar stations is nearing completion, while TBM Rudra continues to make remarkable progress. The BMRCL aims to finish civil and track laying works by the second half of 2024.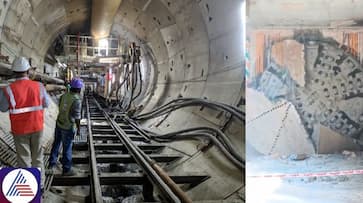 A significant milestone has been achieved in the Bengaluru Metro's Pink Line project as the 7th Tunnel Boring Machine (TBM) successfully completed all of its designated drives. TBM Rudra accomplished the impressive feat of boring 718 meters between Lakkasandra and Langford in its third and final drive, which took only 100 days, spanning from July 14 to October 26.
At present, there are only two TBMs still actively engaged in the ongoing work – TBM Tunga and TBM Bhadra. This achievement marks a notable step forward in the progress of the Bengaluru Metro's Pink Line construction.

Bengaluru metro: Tunnelling of 17 km along Nagavara metro line is complete
The Bengaluru Pink Line metro, which covers a distance of 21.25 km (approximately 13.20 miles), links the Kalena Agrahara station (formerly known as Gottigere) situated on Bannerghatta road in the southern part of the city to the Nagawara station located on the Outer Ring road in the northern region.
In the latest update on the Bengaluru Pink Line metro project, we have key details about its progress. This Pink Line, which extends over 21.26 kilometers, includes a 13.76-kilometer underground section and a 7.5-kilometer elevated section, connecting important areas like Kalena Agrahara, Bannerghatta Road, and Nagawara. With a total of 18 stations, 12 of them are underground.
Among the notable advancements, civil work at MG Road and Shivaji Nagar stations is nearly 90% complete. Workers are diligently working on tasks such as laying tiles, painting walls, and installing air conditioning systems. Additionally, tracks have been successfully laid in both tunnels, and preparations are underway to commence work on electrical systems, signaling, and other crucial components.

Bengaluru Metro Update: City's largest metro station, Jayadeva junction to be launched by year-end
The Tunnel Boring Machine (TBM) Rudra is making remarkable progress at Lakkasandra station. Back in September, the mammoth machine had already drilled 461 meters, and it's expected to complete this phase in late October or early November.
The Bengaluru Metro Rail Corporation Limited (BMRCL) has set ambitious goals for the Pink Line. They aim to wrap up all civil and track laying works by the second half of 2024, and then they'll shift their focus to initiating signalling and other critical system works.
Last Updated Oct 26, 2023, 4:22 PM IST