Massive rally planned in Bengaluru to celebrate Vijayendra's BJP presidency, over 1 lakh people expected
Karnataka's former Chief Minister B.S Yediyurappa has announced a grand ceremony in Bengaluru, expecting a turnout of 1 lakh people, to congratulate Union Home Minister Amit Shah for appointing B.Y. Vijayendra as the new state president of the BJP. Yediyurappa highlighted the enthusiasm among party workers following Vijayendra's assumption of office and expressed confidence that the party would be further strengthened through a statewide tour.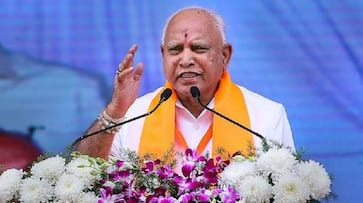 Vijayendra, addressing the BJP office after assuming the presidency, revealed that the appointment was made on the orders of Prime Minister Narendra Modi, Union Home Minister Amit Shah, and BJP National President J.P. Nadda. Yediyurappa expressed a desire to invite Amit Shah to Bengaluru for the ceremony, emphasising the significance of the occasion.
Also Read:Karnataka's BJP-JDS alliance struggles with leadership void ahead of Lok Sabha Elections 2024
BJP State President B.Y Vijayendra's special pooja for  Narendra Modi's third term
The newly appointed BJP state president BY Vijayendra, conducted a special pooja at the Kurudumale Ganapati temple, expressing his prayerful wishes for Prime Minister Narendra Modi to lead the country for the third consecutive term. Vijayendra visited the renowned Ganapati temple in Mulbagilu taluk, marking his first visit after assuming the state presidency.
After the special puja, Vijayendra spoke to the media, emphasizing his commitment to seek guidance from senior party members and move forward collaboratively. Delighted by the rain as an auspicious sign upon leaving the temple, he voiced the importance of Modi securing a strong mandate in the upcoming Lok Sabha elections, asserting that Modi's leadership is crucial for the nation.
Anticipating support from both party seniors and younger members, Vijayendra pledged to empower party workers and strengthen the BJP. Despite the absence of a formal program, a multitude of BJP workers and leaders gathered at Kurudumale to convey their best wishes to the new state president.
Vijayendra assured party unity, emphasizing that the responsibility bestowed upon him by the high command was a result of collective trust and decision-making involving party leaders like J.P Nadda, Narendra Modi, Amit Shah, B.L Santosh, and others. He expressed confidence in leading the party with unwavering faith and sought the blessings of party elders for success in the upcoming Lok Sabha elections.
Last Updated Nov 16, 2023, 1:41 PM IST