Karnataka's BJP-JDS alliance struggles with leadership void ahead of Lok Sabha Elections 2024
Priyank Kharge, Rural Development Minister, has stated that the BJP-JD(S) party in the state will be left without leadership during the upcoming Lok Sabha elections. Kharge invites anyone who aligns with Congress' philosophy and ideology to join their ranks.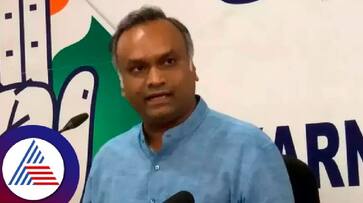 Kharge wishes B.Y Vijayendra well on becoming the BJP state president but highlights a lack of harmony and leadership within the party, with notable absences at Vijayendra's swearing-in ceremony. This move has drawn criticism from Congress leaders, who question the BJP's commitment to principles against favouritism and family politics, citing the appointment as contradictory to Prime Minister Narendra Modi's past statements.
Speaking to media persons in Mangalore on Wednesday, Priyank Kharge extended his best wishes to Vijayendra on assuming the role of BJP state president. Kharge expressed optimism, suggesting that Vijayendra's presidency could positively impact the Congress. The absence of key figures like CT Ravi, Yatnal, and Sunil Kumar at the ceremony revealed the BJP's discontent, highlighting a lack of harmony within the party. Kharge attributed the choice of Vijayendra to the perceived absence of leadership within the BJP.
Also Read: BJP National President JP Nadda Praises Vijayendra's Leadership as Karnataka BJP President
Minister of Infrastructure Development, M.B. Patil, calls Vijayendra's appointment a drama, suggesting it is a strategic move rather than a genuine effort to benefit Yediyurappa or Vijayendra. Priyank Kharge interprets that appointing Vijayendra sends a message from the High Command, signalling B.L. Santhosh to remain at Keshav Krupa. Kharge views this move as a strategic move by Modi, akin to a surgical strike on Yediyurappa's opponents. He asserted," The irony arises as Modi, in a past address from the Red Fort, spoke against corruption, crony politics, and family politics. Questions arise about the ethical foundation of Vijayendra's appointment, especially considering B.L. Santosh's emotional plea to curb corruption—a plea now seemingly forgotten".
Last Updated Nov 16, 2023, 12:51 PM IST