Karnataka: Tamil Nadu Woman arrested at Kollegala for misusing Shakti scheme
A Tamil Nadu woman, Selvi, was arrested at Kollegala bus stand in Karnataka for stealing gold necklaces from women traveling under the 'Shakti Yojana' scheme. She used spiked juice to incapacitate victims. 57 grams of stolen gold were recovered, and she confessed to two thefts.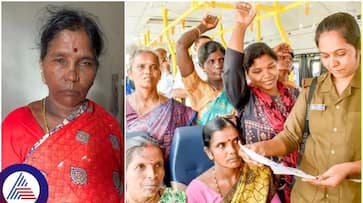 A case of fraud by a woman from Tamil Nadu has been exposed at the Kollegala bus stand, where she targeted women travelling for free under the 'Shakti Yojana' scheme in Karnataka. The accused, Selvi, a 60-year-old native of Tirupur in Tamil Nadu, was arrested by the Kollegala town police in Chamarajanagar district.
Selvi's modus operandi involved introducing herself to women at the bus stop and swiftly snatching the gold necklaces they were wearing. The police apprehended her and confiscated 57 grams of stolen gold.

Meter Down in Bengaluru: Private autos, taxis and buses to go off the road on Sept 11 against Shakti Yojana
In one incident, Selvi met a woman from Vadagere village who had visited Male Mahadeshwar Hill last month. She offered the victim a spiked juice, causing her to lose consciousness, and then stole her gold chain. Another woman from Kirugavalu village narrowly escaped a similar incident when she managed to remove her gold necklace while boarding the bus.

Law students move Karnataka HC against 'Shakti' scheme
These thefts were reported to the Kollegala Police Station, leading to suspicions about Selvi's activities. She was subsequently arrested while attempting to target more women at the bus station. During police interrogation, she confessed to her involvement in both theft cases.
The 'Shakti Yojana' guarantees free travel for women across Karnataka, a scheme introduced soon after the Congress government came to power in the state.
Last Updated Sep 16, 2023, 3:00 PM IST