BJP National President JP Nadda Praises Vijayendra's Leadership as Karnataka BJP President
BJP National President J.P Nadda has stressed the significance of B.Y Vijayendra's appointment as the Karnataka BJP President, attributing it to his demonstrated leadership capabilities. In his interview with the Hindi daily 'Dainik Jagran,' Nadda lauded Vijayendra's pivotal role within the party, citing his committed efforts in organizational work as the primary rationale behind the decision.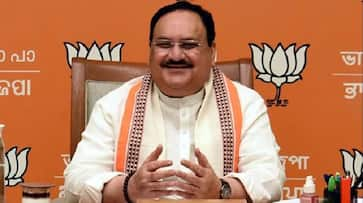 Nadda emphasised Vijayendra's merit in the Karnataka BJP Presidency. He highlighted the party's appreciation for hardworking youth by appointing Vijayendra, a young leader, as the state president. The decision reflects the BJP's commitment to encouraging positive change and improvement within its ranks. Nadda hinted at anticipated significant transformations in the Karnataka unit of the party under Vijayendra's leadership.
Also Read: 'Sole focus to defeat Congress in Lok Sabha 2024 race': Karnataka BJP Chief BY Vijayendra
Celebrations ensued in Yelandur as BJP workers, leaders, and fans of B.S. Yediyurappa marked the occasion by distributing sweets and bursting firecrackers. Yelandur BJP mandal president Mahesh expressed joy over the appointment of youth leader Vijayendra as the state BJP president, emphasising its potential to strengthen the party in the upcoming Lok Sabha election.
Acknowledging Vijayendra's leadership qualities, BJP leaders, including Nadda, Prime Minister Narendra Modi, and Amit Shah, extended congratulations. The BJP stands united behind B.Y. Vijayendra, with expectations of securing more seats in the state during the upcoming Lok Sabha elections.
Last Updated Nov 16, 2023, 12:42 PM IST