Karnataka: Pro-Kannada outfits announce statewide bandh on September 29 despite Deputy CM's opposition
In a move aimed at pressuring the Karnataka state government to halt the diversion of Cauvery water to Tamil Nadu during a time of agricultural distress, a coalition of pro-Kannada organizations, led by Vatal Nagaraj, has declared a state bandh scheduled for September 29. This announcement comes just days after a successful Bengaluru bandh led by the same groups.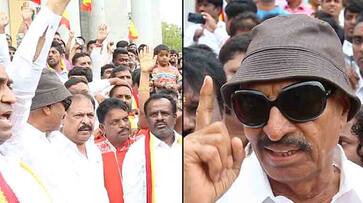 Notably, the pro-Kannada coalition has garnered widespread support, with over 700 organizations, including 500 district-level entities, rallying behind the cause. As a result, it is anticipated that numerous services across the state, including Bengaluru, may be disrupted during the course of the upcoming bandh.
Karnataka bandh on Sept 29: State film board extends support, no films will be released
Protest plans include a march from Town Hall to Freedom Park at 11 am on September 29, followed by a protest meeting with Chief Minister Siddaramaiah. The coalition has appealed for the suspension of non-essential services and the halt of essential goods transportation during the bandh.
Moreover, the closure of state and national highways is being considered as a means to halt vehicular traffic during the protest, and there have been discussions about staging a demonstration at Kempegowda International Airport to draw national attention to their cause.
Despite these developments, Deputy Chief Minister D.K. Shivakumar expressed opposition to the planned bandh, stating that the peaceful protests during the recent Bengaluru bandh had already conveyed the people's sentiments. He even suggested that the courts might not sanction another bandh. Shivakumar also vowed legal action against those involved in stone-throwing incidents during the previous bandh.
In response to criticism from former Chief Minister Kumaraswamy, DK Shivakumar defended the government's stance on the Cauvery issue, asserting that opposition parties had a voice and could not be silenced. He urged Kumaraswamy to prioritize the welfare of the state's people over political debates on water-related matters.
Last Updated Sep 27, 2023, 4:25 PM IST