Karnataka minister Madhu Bangarappa urges BJP to prioritize real issues over 'India vs Bharat' debate
Karnataka Education Minister Madhu Bangarappa has issued a stern warning to the BJP, cautioning against the use of emotional tactics in the ongoing debate over "India vs Bharat." He emphasized that the people of India will not tolerate such maneuvers and will respond accordingly.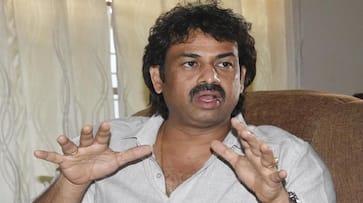 Addressing a press conference on Wednesday in Shivamogga, minister Bangarappa criticized the BJP's shift in focus from issues like Ramakrishna to the emotionally charged topic of India. He accused the BJP of neglecting the concerns of genuine Indians and resorting to similar strategies used in previous elections. He expressed confidence that the electorate would provide a fitting response to these tactics.
WATCH: Viral video shows man withdrawing cash from ATM using UPI; lauds innovative feature of 'Bharat'
Bangarappa also responded to former Home Minister Araga Gyanendra's assertion that the name "India" lacked historical significance. He pointed out that athletes representing the nation proudly bear the name "India," and it is even imprinted on Mount Everest. He urged the BJP to refrain from playing emotional games and focus on their accomplishments.
Regarding a recent controversy involving his response to Tamil Nadu CM Stalin's son Udayanidhi's statement on Sanatana Dharma, Minister Bangarappa chose not to comment or criticize.
Shifting gears, the Education Minister discussed the new examination system, highlighting its benefits for students who face failure and the resulting mental stress. He defended the system's provision for a second chance for students who excel in most subjects but struggle in one. 
Bangarappa asserted that this approach would provide students with a fair opportunity to pass their exams and plan for their future.
Last Updated Sep 7, 2023, 12:24 PM IST