Mangalore buns to Goli Baje: 7 Mangalorean dishes to savour during rains
As the rain pours down, let your taste buds rejoice with the diverse flavors of Mangalorean cuisine. From Mangalore Buns to Goli Baje, these dishes offer a culinary journey that celebrates the rains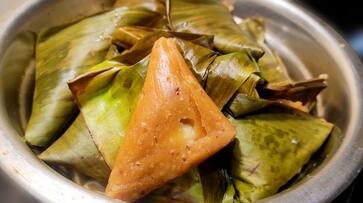 Indulging in the delectable cuisine of Mangalore during the rainy season is a delightful experience. From the fluffy Mangalore buns to the crispy Goli Baje, these seven mouthwatering dishes will tantalize your taste buds and add joy to your rainy day.
As the rain pours down, let your taste buds rejoice with the diverse flavors of Mangalorean cuisine. From Mangalore Buns to Goli Baje, these dishes offer a culinary journey that celebrates the rains.
1. Goli Baje:

Also known as Mangalore Bonda, Goli Baje is a popular monsoon snack made with a fermented batter of rice and lentils. These fluffy and crispy dumplings are best enjoyed with coconut chutney or sambar.
2. Mangalorean Chicken Sukka:
This flavorful and spicy chicken dish is a specialty of Mangalore. The chicken is marinated in a blend of aromatic spices and cooked until tender. It is typically served as a side dish with rice or neer dosa.
3. Neer Dosa:
Neer Dosa is a delicate and lacy rice crepe that is light on the stomach and perfect for the rainy season. It is made with a batter of rice and coconut and is often paired with chutney or chicken curry.
4. Kori Rotti:
Kori Rotti is a popular Mangalorean chicken curry served with crispy rice wafers called rottis. The chicken curry is made with a rich coconut-based gravy and has a distinct tangy flavor. The rottis are soaked in the flavorful curry before being eaten.
5. Mangalorean Fish Curry:
Mangalore is known for its delectable fish curries, which are a must-try during the monsoons. The curry is made with a blend of spices, coconut, and tamarind, giving it a tangy and spicy flavor. It is typically enjoyed with steamed rice or appam.
6. Mangalore Buns:
Mangalore Buns are sweet and fluffy deep-fried bread made with mashed bananas and flour. These buns are perfect for breakfast or as an evening snack with a cup of tea during the rainy season.
7. Patrode:
Patrode is a traditional Mangalorean dish made with colocasia leaves (taro leaves) stuffed with a spiced rice and lentil mixture. The stuffed leaves are then steamed or fried until cooked. Patrode is a unique and delicious dish often enjoyed during the monsoons.
Remember to try these mouthwatering Mangalorean dishes in reputable restaurants or homes to experience the authentic flavors of the region during the monsoon season.
Last Updated Jul 4, 2023, 2:07 PM IST