Karnataka: Hassan district administration revokes VVIP visits to Hasanamba Temple
Following a stampede at Hasanamba temple during public darshan, the Hassan district cancelled VVIP access. Despite the order, Excise Minister R.B. Thimmapura breached it, entering through the VVIP gate for prayers. This action sparked public outcry over perceived dual standards, further fueled by MLA Cement Manju and their supporters also flouting the rules.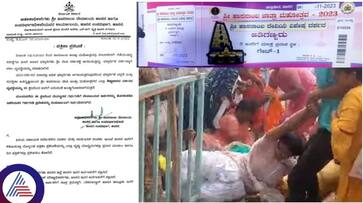 Following the recent unfortunate incident of shock and a stampede during the Hasanamba darshan in Hassan, the district administration has taken swift action by issuing an order to cancel the darshan for dignitaries and very dignitaries (VVIP).
Just two days ago, a distressing incident occurred near the Hasanamba temple due to an electrical accident, causing an electric shock and a subsequent stampede. The incident led to a distressing video circulating online, showing women in agony near the Dharma Darshan queue. The shock caused some to collapse, triggering chaos as women rushed, falling over each other. 

Karnataka: 17 injured as electric shock triggers stampede at Hassan's Hasanamba temple
Prompt assistance from locals aided in rescuing those affected. In response to the ordeal faced by devotees, the district administration decided to cancel the VVIP darshan on Friday evening.
The Hasanamba temple, open once a year for public darshan from November 3rd to November 14th, allocated over 5,000 darshan tickets for VIPs and VVIPs. However, devotees in the public Dharma darshan faced significant issues due to the arrangement. Consequently, the Hassan Sub-Divisional Officer, who also serves as the administrator of the temple, ordered the cancellation of the etiquette darshan in light of the stampede.

Bengaluru: Rental rates soar in Whitefield, tops list for 2023; check details
The situation took a controversial turn when Excise Minister R.B. Thimmapura breached the cancellation order by entering the sanctum sanctorum of the Hasanamba temple for darshan. Despite the cancellation of VVIP darshan due to the devotees' stampede, the minister and his family were given entry through the VVIP gate, where they conducted their prayers. 
This act stirred public outcry, questioning the dual standards applied—one for the people and another for the minister. Moreover, supporters of Minister Thimmapura and MLA Cement Manju breached the VVIP gate, flouting the rules, and causing further public discontent, as cited by the district administration.
Last Updated Nov 11, 2023, 3:57 PM IST