Karnataka: Fire accident at Afzalpur burns down pump set, water shortage for next few days
A fire at a water treatment plant in Afzalpur, Karnataka, damaged a crucial pump, leading to a drinking water shortage. Firefighters responded swiftly, but repairs are needed, and residents are urged to conserve water until the issue is resolved.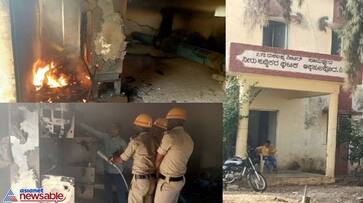 A fire incident has occurred at a crucial water treatment plant in Afzalpur town, situated within the Kalaburagi district of Karnataka. The fire, resulting in the substantial damage of a 50 HP pump, was ignited due to a short circuit. The affected plant played a pivotal role in supplying clean and drinkable water to Afzalpur town, drawing its water source from the Bhima River.
The incident set off alarm bells, prompting an immediate response from the local fire brigade personnel. Their arrival at the scene was instrumental in swiftly extinguishing the fire and preventing further damage. Despite their efforts, the incident has unfortunate ramifications for the residents of Afjalapura town.

21 Bengaluru pubs and restaurants shut down in wake of Mudpipe Cafe fire
The burnt pump set is vital for the water purification process, and its destruction means that the town will experience a severe shortage of drinking water in the days to come. The local authorities are scrambling to address this crisis and have urged residents to use water judiciously until repairs can be made and a new pump set installed.
More details awaited.
Last Updated Oct 25, 2023, 11:11 AM IST