Karnataka DyCM DK Shivakumar delays decision on Belgaum district bifurcation
Karnataka Deputy Chief Minister DK Shivakumar announced a temporary postponement in the decision-making process regarding the proposed division of Belgaum district into three separate districts. While Minister Satish Jarakiholi had advocated for this division in the interest of administration, no definitive verdict has been reached as of now.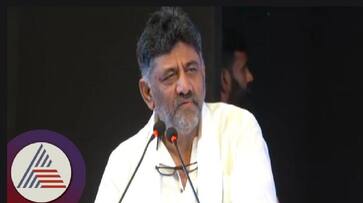 Currently, there are four assembly constituencies in Ramanagara, Gadag, Chamarajanagar districts, and two assembly constituencies in Kodagu district, ensuring the smooth functioning of administrative affairs.
Shivakumar reassured the public that there is no immediate need for concern regarding the partition of Belgaum, emphasizing that a decision will be made following thorough consultations. Addressing questions regarding farmer suicides, he demanded the report on farmer suicides and refuted claims of any farmer having taken such a tragic step, dismissing them as "fake news."
 'National parties can't dislodge us...' JDS chief HD Deve Gowda vows to protect JD-S
Mekedatu Padayatra Raises Questions
Deputy Chief Minister Shivakumar questioned the whereabouts of organizations that had previously protested against the release of Cauvery water to Tamil Nadu during the Mekedatu Padayatra. He also expressed curiosity about the lack of urgency from the BJP and JDS parties in urging the central government to grant permission for the Mekedatu project. This pointed inquiry highlights the complex dynamics surrounding water issues in the region.
Sarcasm in Politics
In a lighter political exchange, former Deputy Chief Minister Dr. C.N. Ashwath Narayan made a sarcastic remark, suggesting that some BJP MLAs were being blackmailed by Congress members. He referenced Ashwath Narayan statement and jokingly noted that this was the word of "Navarangi Narayan" which means a man who keeps changing his colours. The response to these comments, in a sardonic tone, adds a touch of humor to the ongoing political discourse.
Last Updated Sep 5, 2023, 7:32 PM IST