Karnataka BJP rift: BS Yediyurappa and DV Sadananda Gowda clash over retirement controversy
The BJP leadership in Karnataka is embroiled in a public spat involving former Chief Ministers BS Yediyurappa and DV Sadananda Gowda. The rift pertains to instructions reportedly issued by the central leadership to Sadananda Gowda, urging him not to contest any future elections, triggering heated exchanges between the two senior leaders.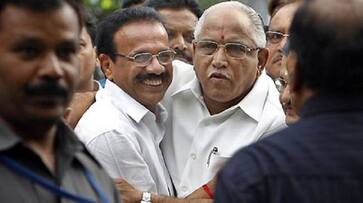 B.S Yediyurappa, a prominet member of BJP Parlimentarian board, indicated that a notice had been communicated to Sadananda Gowda by the high command, directing him to refrain from participating in upcoming elections. This statement was vehemently rebutted by Sadananda Gowda, who labeled it as a complete falsehood. He refuted any communication from the national leadership or instructions regarding his retirement, dismissing it as fabricated information.
Also Read: 'Politics of Revenge': Former Karnataka CM BS Yediyurappa sounds warning on Congress govt
The clash escalated further when Yediyurappa attributed Gowda's purported retirement to his age, insinuating that the statement may have been misinterpreted. Despite the ensuing controversy, addressing reporters in Maddur, Mandya district, Gowda vehemently refuted suggestions of pressure behind his political retirement, expressing his disinclination for political power. He stressed the need to provide opportunities to the youth, rejecting the idea of his political legacy overshadowing the next generation. Emphasizing his extensive tenure in the party, spanning various roles, including National Secretary, minister in the central government with Prime Minister Modi, Chief Minister, and State President, he asserted his decision to step away from electoral politics, citing the need for the younger generation to engage actively.
Conversely, Yediyurappa attempted to clarify the controversy that emerged due to his earlier statements, seeking to rectify the misunderstanding via social media. Notwithstanding Sadananda Gowda's declared retirement from electoral politics, he remains actively engaged and committed to ensuring the BJP secures 25 seats in the upcoming Lok Sabha elections. Stressing collective efforts towards strengthening Prime Minister Narendra Modi's leadership, Gowda highlighted collaborative endeavors with fellow leaders to maximize electoral victories in the state.
As tentions continue to simmer, the statements and reactions from these senior leaders have sparked debate within political circles.
 
Last Updated Nov 10, 2023, 1:26 PM IST